Lady Prestor
Regular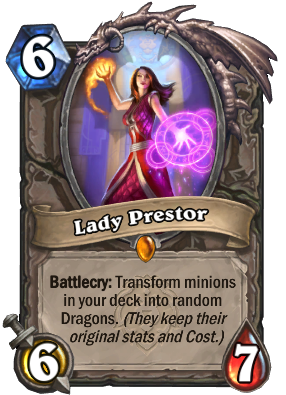 Gold
Battlecry:
Transform minions in your deck into random Dragons.
(They keep their   original stats and Cost.)
Flavor text
To her credit, the best bodyguard for the king WOULD be a dragon in disguise.
External links
For other appearances of Onyxia, see Onyxia (disambiguation).
Lady Prestor is a legendary neutral minion card, from the United in Stormwind set.
How to get
[
]
Regular Lady Prestor is uncraftable and cannot be crafted or disenchanted. Golden Lady Prestor can be obtained by:
Others
Strategy
[
]
With good stats but an unstable Battlecry, Lady Prestor is an odd card for most of the decks. It is hard to fit her in something really useful since you don't have any kind of control.
At fist sight, you can put her in a low cost deck, using her effect to obtain high value cards with a low cost, but again, you can not control anything.
She can be somehow used on Standard, but it is almost a trash card for Wild and Casual.
Felfire Deadeye can be used with Lady Prestor to generate Coldara Drake and OTK the opponent with Demon Hunter. Since there are few dragons in Standard, there is a high possibility of this happening if you are running many 1 and 2 cost minions.
You can include Taelan Fordring in the deck and Tuskpiercer to improve the possibility of drawing Lady Prestor.
Even if the combo is not generated, with Acrobatics you can cycle fast through your dragons and overwhelm the opponent.
Sounds
[
]
Summon
Attack
Death
Lore
[
]
This is Onyxia in her human disguise.
Gallery
[
]
Patch changes
[
]
References
[
]