GTA: The Criminal Enterprises - The Loop
Play Sound
Kriziki
54554 • DALA_Kriziki
Regular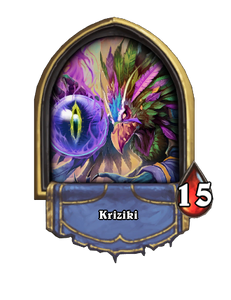 Dimensions:
Full
•
330 x 410px
Golden
Card image missing. Click here to upload.
Full tags
CLASS=6 HEALTH=15 CARDTYPE=3 HERO_POWER=479 HIDE_WATERMARK=1
Wiki tags
None
External links

It is a part of limited content and does not appear in any other
game modes
.
For other representations of Kriziki, see

Kriziki (disambiguation)

.
Kriziki is a hero that the player can pick in The Dalaran Heist. She represents the Priest class.
Hero Powers
[
]
| Available at start | Unlock: Restore 50 Health | Unlock: Cast 50 Spells |
| --- | --- | --- |
| | | |
Starting cards
[
]
Card Bundles
[
]
Strategy
[
]

Please add any available information to this section.
Emotes
[
]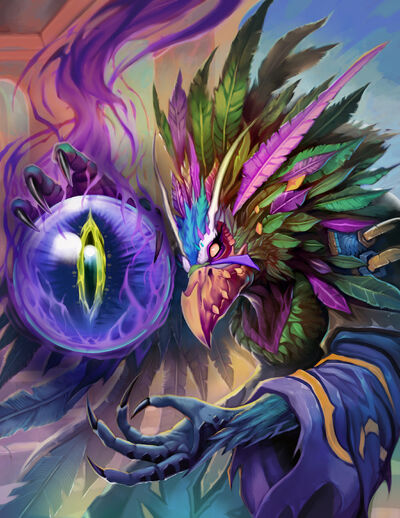 Type
Emote
Selected
Darkness I weave!
Opening remark
Must fly again...
Thanks
Ra-ak! Well done.
Well Played
Bold you are. Yes!
Greetings
Shadows hide you. Caw!
Wow
KA-KAW!
Oops
Birdbrain am I? Hm.
Threaten
Shadows tear you asunder!
Sorry
Caaaw. Apologies.
Attack
Shadows unravel you!
Concede
No wings today.
Thinking [1]
Darkness folds and writhes...
Thinking [2]
Hm...
Thinking [3]
Ra-aak? Ra-aak.
Almost out of time
Time runs thin.
Almost out of cards
Cards low.
Out of cards
Caw-ards gone.
Error: Too many minions
No room for that one.
Error: Generic
I can't do that.
Error: Hand already full
Aa-ak! Full hand!
Error: Hero already attacked
Kriziki rests now.
Error: Minion not ready
That minion must wait, a-rak!
Error: Minion exhausted
It recovers from last strike.
Error: Not enough mana
I Need Mana!
Error: Need a weapon
Need weapon!
Error: Can't play that card
No! Cannot play.
Error: Can't target stealthed minions
That coward is hiding
Error: Not a valid target
Cannot target.
Error: Must attack taunt minion
Another taunts me.

Extra Arms

is played
More arms...want more wings!

Shadowform

is played
Not just...for healing!

Shadow Word: Horror

is played
Destroy the weaklings! Rak!

Fly-By

is played
Take to the skies!
Lore
[
]
Kriziki is unique to Hearthstone. She is an arakkoa who was taken in by Madame Lazul, who is helping the former achieve the power of flight. She also used to work for the Kabal.
Patch changes
[
]
The Dalaran Heist
Heroes
Chapter 1: Dalaran Bank

| | |
| --- | --- |
| Level 1 | |
| Level 2 | |
| Level 3 | |
| Level 4 | |
| Level 5 | |
| Level 6 | |
| Level 7 | |
| Level 8 | |

Chapter 2: The Violet Hold

| | |
| --- | --- |
| Level 1 | |
| Level 2 | |
| Level 3 | |
| Level 4 | |
| Level 5 | |
| Level 6 | |
| Level 7 | |
| Level 8 | |

Chapter 3: Streets of Dalaran

| | |
| --- | --- |
| Level 1 | |
| Level 2 | |
| Level 3 | |
| Level 4 | |
| Level 5 | |
| Level 6 | |
| Level 7 | |
| Level 8 | |

Chapter 4: The Underbelly

| | |
| --- | --- |
| Level 1 | |
| Level 2 | |
| Level 3 | |
| Level 4 | |
| Level 5 | |
| Level 6 | |
| Level 7 | |
| Level 8 | |

Chapter 5: Kirin Tor Citadel

| | |
| --- | --- |
| Level 1 | |
| Level 2 | |
| Level 3 | |
| Level 4 | |
| Level 5 | |
| Level 6 | |
| Level 7 | |
| Level 8 | |
| Level 9 | |
| Level 10 | |
| Level 11 | |
| Level 12 | |

Tavern