Octavian Morosan

Team Information
Youtube:
Kripparrian
Twitter:
Kripparrian
Share this Page

{{#TwitterFBLike:|small|like}}
"Kripparrian smirks into your soul." - TotalBiscuit[1]
Octavian "Kripparrian" Morosan, also known as Kripp or nl_Kripp, is a noted player of Hearthstone, Path of Exile and Diablo III. He was born June 30, 1987 in Canada.[2]
Career
[
]
In beta
[
]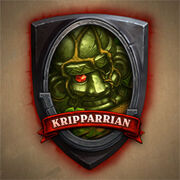 Kripparrian was one of 8 players invited by Blizzard to participate in the 2013 Hearthstone Innkeeper's Invitational at Blizzcon.
After winning his first two rounds 3-0 and 3-0, Kripparrian was eventually defeated 2-3 in a close-fought last game against Artosis, who claimed the tournament. Almost two years after this event, Kripparian and Artosis battled once again in a rematch using their same decks from Blizzcon 2013. This rematch acted as an entertaining show-match apart from the SeatStory Cup hosting the tournament.[3]
Casting Career
[
]
On Kripparian's Twitch channel, Kripparian may be seen playing in a Hearthstone arena match. Though his streaming is proportioned with mostly arena games, Kripparian also maintains a casting career involving the constructed portion of Hearthstone.[4]
Casting Events
[
]
Current Status
[
]
Kripparrian may be currently viewed on Twitch during his daily late night stream. He also maintains an active Youtube video base with videos uploaded daily on topics including Hearthstone, Path of Exile, and Diablo.[9]
Kripparrian is known as one of the foremost figures in the Hearthstone community. He is especially known for his arena gameplay. Since starting Hearthstone, Kripparrian has joined the well-known and professional e-sports organization Team Solomid.[10]

Kripparian resided in Athens, Greece for a year and a half with his wife Rania (underflowR). They currently reside in Canada. Rania is also Kripp's manager and the editor of his YouTube videos, as well as maintains a YouTube channel with clips from their real life . [11] [12]
Awards
[
]
Kripparrian was recognized in the 2013 Blizzard Stream Awards. He received the following awards:
1st place - Favourite Hearthstone Stream
1st place - Most Engaged Viewers - awarded to the broadcaster with the highest average minutes watched per unique viewer
2nd place - Highest Stream Viewer Average - awarded to the broadcaster with the highest average viewer count (over 2000 minutes streamed) while streaming Blizzard games
3rd place - Most Popular Non-English Streamer - awarded to the broadcaster who had the most 'minutes watched' in non-English regions while streaming Blizzard games
Trivia
[
]
Kripparrian is known for his fondness for orange juice. On his Twitch page he states that he will likely spend any donated money "on discounted orange juice and falafel."[13]
Kripparrian is also known for destroying or otherwise altering the appearance of the battlefield as far as possible during his opponent's turn, as seen during the 2013 Innkeeper's Invitational finals.
Kripparrian had accumulated a significant amount of Arcane dust that was so much that it would crash the servers, but developers took countermeasures that actually seemed to work out that issue.
On June 3, 2017, Kripparian disenchanted his duplicate cards on stream, at a towering arcane dust amount of 660,620.[14]
After he pressed the button, his game went unresponsive, then later displaying an error screen[15], but after restarting his client, he got hat massive amount of Arcane Dust.[16]
Quotes
[
]
About Kripparrian
[
]
"When I was watching Kripp's stream before Blizzcon [2013], I actually didn't think he was that good of a player, but when I played against him at Blizzcon and spoke to him a bit, I realised he just looks at the game differently than I do, or any of my teammates do." - Artosis[17]
Interviews
[
]
2014
[
]
2013
[
]
References
[
]
External links
[
]