Kolek
Kolek is an uncollectible demon hunter/hunter minion card, summoned by Demon Companion, from the Scholomance Academy set.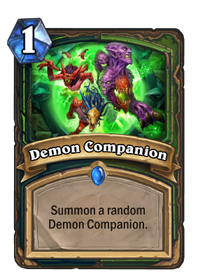 Summon
Attack
Death
Kolek is a felbat.

This section uses content from Wowpedia.
Felbats or fel bats are a race of winged, gargoyle-like demons. The Burning Legion breeds them as flying mounts for their soldiers, but many felbats have also been enslaved by the Illidari as mounts.