Kobold Barbarian
Regular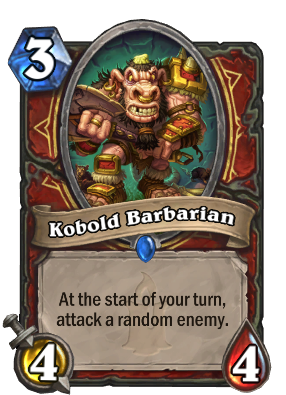 Gold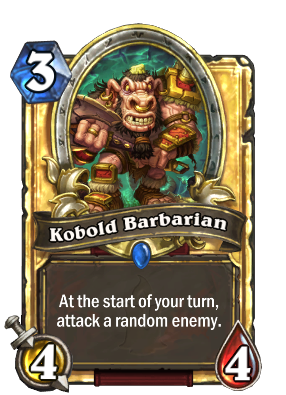 At the start of your turn, attack a random enemy.
Flavor text
What is best in life? To make candle. To keep candle. To hear lamentations of candle-takers.
External links
Kobold Barbarian is a rare warrior minion card, from the Kobolds and Catacombs set.
How to get
Strategy
This minion is a variant of Ogre Brute. Whereas Ogre Brute has a 50% chance to attack a random enemy, Kobold Barbarian will always do so. This can be useful if it strikes a target hidden behind a Taunt. Generally however, this is an extreme downside for only a single bonus Attack over the average 3-mana minion. Since this minion attacks randomly and always first, it is likely to make low value trades (though you can try, however, to use silence on it). This means its bonus stat is usually put to waste.
Quotes
Summon

You take wrong candle.
Attack

Kobold smash!
Trivia
The flavor text refers to a quote from movie Conan the Barbarian (1982):
"Mongol General: What is best in life?
Conan: To crush your enemies, to see them driven before you, and to hear the lamentations of their women."
Gallery
Patch changes