Kizi Copperclip
Regular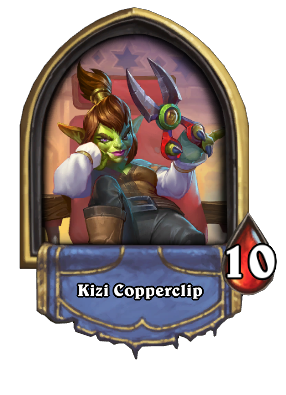 Gold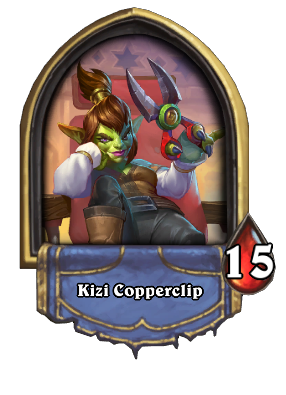 Flavor text
A skilled stylist, but get on her bad side and she's a bit snippy.
External links
Kizi Copperclip is a boss that can be encountered in The Dalaran Heist adventure.
Hero Power
[
]
Normal
Heroic

Auto-cast
Decks
[
]
The below classes are listed purely for reference, and have no effect on the boss' use of the cards during the battle.
Strategy
[
]
Kizi's hero power effects are simple and not too complicated to deal with. If you form a simple strategy, you will win.
Dialogue
[
]
Before match
Madame Lazul

Even de barber rises against us. Cut her down to size!
Introduction
Kizi Copperclip

Look what the cat dragged in. Here for a CUT?
You're lookin' a little... hot headed. (vs. Rakanishu)
You could use a little off the top, couldn't ya? (vs. Captain Eudora)
vs. Squeamlish

Squeamlish

Squeamlish whisker could being use trim!
Emote Response
Kizi Copperclip

You don't intimidate me.
Hero Power
+2 Attack

Oh! A mohawk! Aggressive.
Now you're lookin' mean!

+2 Health

How about something a little old school.
You'll be lookin' nice and strong.

Stealth

Here's something sleek and elegant.
Let's just take some off the sides...

Taunt

No one's gonna be able to keep their eyes off of you!
You'll stand out with one of these.

Misc

Not much to work with...
Snip snip... snip snip...
Snip snip... whoops!
What a luxurious mane!
Turn 1
Kizi Copperclip

Have you considered going purple?! It suits you!
Idle
Kizi Copperclip

I don't think my cosmetology license covers this...
I've got a lot of appointments, let's get this going!
Oooh boy, that's a lot of hair to clean up.
Kizi Copperclip

My assistant will take it from here.
Player's cards
Kizi Copperclip

Blood Razor

Now that's a sign of a true amateur.

Sprint

Hey! Don't go running with scissors!
Death
Kizi Copperclip

(yell)
Defeat
Kizi Copperclip

Guess I'm a cut above!
Lore
[
]

This section uses content from Wowpedia.
Kizi Copperclip is the goblin in charge of the Barbershop in Dalaran.
Gallery
[
]
Patch changes
[
]
The Dalaran Heist
Heroes
Chapter 1: Dalaran Bank

| | |
| --- | --- |
| Level 1 | |
| Level 2 | |
| Level 3 | |
| Level 4 | |
| Level 5 | |
| Level 6 | |
| Level 7 | |
| Level 8 | |

Chapter 2: The Violet Hold

| | |
| --- | --- |
| Level 1 | |
| Level 2 | |
| Level 3 | |
| Level 4 | |
| Level 5 | |
| Level 6 | |
| Level 7 | |
| Level 8 | |

Chapter 3: Streets of Dalaran

| | |
| --- | --- |
| Level 1 | |
| Level 2 | |
| Level 3 | |
| Level 4 | |
| Level 5 | |
| Level 6 | |
| Level 7 | |
| Level 8 | |

Chapter 4: The Underbelly

| | |
| --- | --- |
| Level 1 | |
| Level 2 | |
| Level 3 | |
| Level 4 | |
| Level 5 | |
| Level 6 | |
| Level 7 | |
| Level 8 | |

Chapter 5: Kirin Tor Citadel

| | |
| --- | --- |
| Level 1 | |
| Level 2 | |
| Level 3 | |
| Level 4 | |
| Level 5 | |
| Level 6 | |
| Level 7 | |
| Level 8 | |
| Level 9 | |
| Level 10 | |
| Level 11 | |
| Level 12 | |

Tavern