Kham
Regular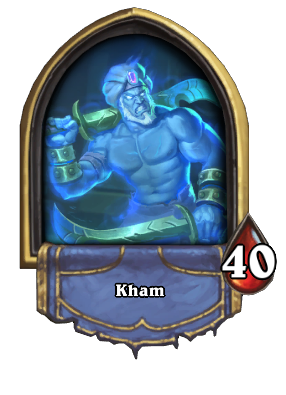 Gold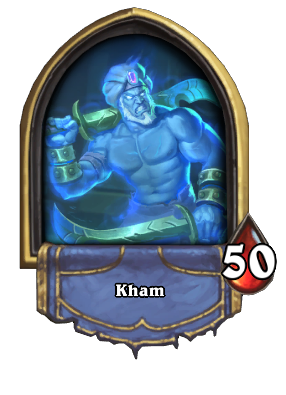 Flavor text
Now you see him, now you don't, now you're impaled.
External links
Kham is a boss that can be encountered initially in Chapter 3 of Tombs of Terror. After completing Chapter 3, this boss encounter will be available in any completed chapter.
Hero Powers
[
]
Normal
Heroic

Passive
Decks
[
]
The below classes are listed purely for reference, and have no effect on the boss' use of the cards during the battle.
These decks correspond only to level 6. If this boss is encountered on level 5, his deck will be missing 5 random cards.
Strategy
[
]

Please add any available information to this section.
Dialogue
[
]
Introduction
Kham

You wish to become a ghost?

Reno Jackson

There's no such thing as ghosts... there's no such thing as ghosts...
Emote Response
Kham

Oh, hi! This is my first chat in years!
Hero Power
Kham

A spirited riposte!
Death has its benefits.
Impressive, aren't I?
Look alive, now.
My blade is a cut above.
Idle
Kham

I can swallow swords too. Doesn't hurt at all.
If I beat you, please haunt me. We'll be friends!
Boss cards
Kham

Ancestral Guardian

Oh, NOW the other guardians visit.

Weapon card

Have you ever been cut by a spectral sword?
Player's cards
Kham

Brazen Zealot

You keep brave company.

Bone Wraith

Better to be a spirit than that!

Tomb Warden

Now that's unusual.
Death
Kham

(yell)
Defeat
Kham

Wait, come back! I could use some company!
Lore
[
]
Kham is unique to Hearthstone. He appears to be an Ancestral Guardian.
Gallery
[
]
Patch changes
[
]
Tombs of Terror
Heroes
Chapter 1:
The Lost City

| | |
| --- | --- |
| Level 1 | |
| Level 2 | |
| Level 3 | |
| Level 4 | |
| Level 5 | |
| Level 6 | |
| Level 7 | |
| Level 8 | |

Chapter 2:
Scorching Dunes

| | |
| --- | --- |
| Level 1 | |
| Level 2 | |
| Level 3 | |
| Level 4 | |
| Level 5 | |
| Level 6 | |
| Level 7 | |
| Level 8 | |

Chapter 3:
Khartut's Tomb

| | |
| --- | --- |
| Level 1 | |
| Level 2 | |
| Level 3 | |
| Level 4 | |
| Level 5 | |
| Level 6 | |
| Level 7 | |
| Level 8 | |

Chapter 4:
Halls of Origination

| | |
| --- | --- |
| Level 1 | |
| Level 2 | |
| Level 3 | |
| Level 4 | |
| Level 5 | |
| Level 6 | |
| Level 7 | |
| Level 8 | |

Chapter 5:
The Inner Sanctum
Tavern