Kasa Softspeaker
Regular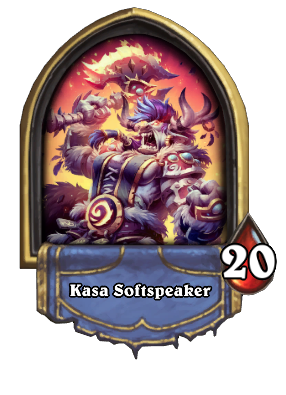 Gold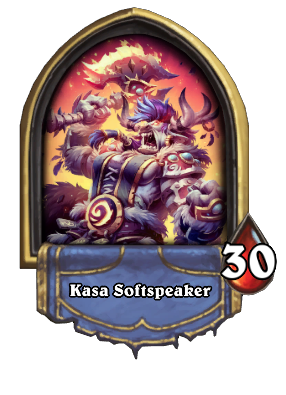 Flavor text
The Plague of Madness has not been kind to once-gentle Kasa.
External links
Kasa Softspeaker is a boss that can be encountered initially in Chapter 2 of Tombs of Terror. After completing Chapter 2, this boss encounter will be available in any completed chapter.
Hero Powers
[
]
| Normal | Heroic |
| --- | --- |
| | |
Decks
[
]
The below classes are listed purely for reference, and have no effect on the boss' use of the cards during the battle.
These decks correspond only to level 4. If this boss is encountered on level 3, her deck will be missing 5 random cards from listed below.
Strategy
[
]
Dialogue
[
]
Introduction
Kasa Softspeaker

You... monsters... betrayed us...
Sir knight... no... NO! You are one of them! (vs. Sir Finley)
Elise Starseeker

She seems to be affected by the Plague of Madness...
Emote Response
Kasa Softspeaker

I will not listen to you! You are with... that thing!
Hero Power
Kasa Softspeaker

Crush the monsters!
I cannot... control myself!
I will smash you!
Nothing... makes... sense!
What ARE you?!
Idle
Kasa Softspeaker

Shadows... whispering...
Traitors... everyone...
Why do you chase me?
Boss cards
Kasa Softspeaker

Plague of Madness

It is back... now you shall see...

Whirlwind

Just... get away from me!

Arcanite Reaper

I will smash all of you!
Player's cards
Kasa Softspeaker

Any weapon

So you ARE coming for me!

Plague of Madness

No! It is coming for me again!

Surrender to Madness

I have... already... surrendered!
Death
Kasa Softspeaker

..wha....where am I?
Defeat
Kasa Softspeaker

Did my eyes... deceive me...?
Lore
[
]
Gallery
[
]
Patch changes
[
]
Tombs of Terror
Heroes
Chapter 1:
The Lost City

| | |
| --- | --- |
| Level 1 | |
| Level 2 | |
| Level 3 | |
| Level 4 | |
| Level 5 | |
| Level 6 | |
| Level 7 | |
| Level 8 | |

Chapter 2:
Scorching Dunes

| | |
| --- | --- |
| Level 1 | |
| Level 2 | |
| Level 3 | |
| Level 4 | |
| Level 5 | |
| Level 6 | |
| Level 7 | |
| Level 8 | |

Chapter 3:
Khartut's Tomb

| | |
| --- | --- |
| Level 1 | |
| Level 2 | |
| Level 3 | |
| Level 4 | |
| Level 5 | |
| Level 6 | |
| Level 7 | |
| Level 8 | |

Chapter 4:
Halls of Origination

| | |
| --- | --- |
| Level 1 | |
| Level 2 | |
| Level 3 | |
| Level 4 | |
| Level 5 | |
| Level 6 | |
| Level 7 | |
| Level 8 | |

Chapter 5:
The Inner Sanctum
Tavern