Kara Kazham!
Kara Kazham!
Summon a 1/1 Candle, 2/2 Broom, and 3/3 Teapot.
This is what happens when you tell Khadgar to set the table.
Kara Kazham! is a common warlock spell card, from the One Night in Karazhan set.
Two copies of regular Kara Kazham! are obtained by completing the warlock Class Challenge in One Night in Karazhan, unlocked upon completing second wing, The Opera.
As a Wild format card, both regular and golden versions of Kara Kazham! can also be crafted for the following amounts:
| Card | Crafting cost | Disenchanting |
| --- | --- | --- |
| Kara Kazham! | 40 | 5 |
| Golden Kara Kazham! | 400 | 50 |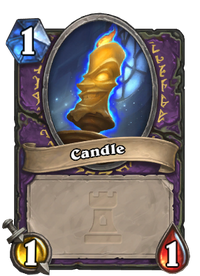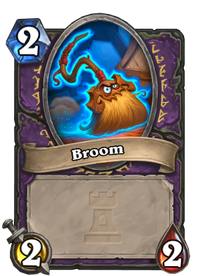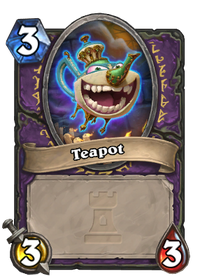 This is a card that can be used to add some mid-game value to a Zoo deck, providing multiple bodies for just a single card. However, since the Warlock's Hero Power provides easy card draw, most Zoo decks prefer the flexibility of multiple smaller cards.
This card combines well with Defile, guaranteeing at least 4 damage to all minions.
This spell appears to depict the enchantment of Karazhan's various housewares, turning assorted domestic objects into some surprisingly dangerous minions. It also corresponds with the Beautiful Beast Opera encounter in the Return to Karazhan instance, which includes Babblet the broom, Luminore the candle, and Mrs. Cauldrons the kettle as enemies. (The latter instance was not added to World of Warcraft until several months after the release of One Night in Karazhan, but liaison between the two games' developers may have influenced one or both games.)
This spell's title is a play on "Alakazham", a magical word similar to "Abrakadabra".
Like the adventure's various animated silverware, this card may be a reference to the 1991 Disney animated film Beauty and the Beast, which sees the castle filled with living housewares.
With Gul'dan as the warlock player's hero, he will say the spell's name menacingly when casting it.