GTA: The Criminal Enterprises - The Loop
Play Sound
Jomaro Kindred
Regular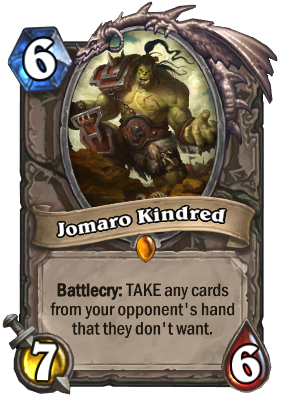 Battlecry:
TAKE any cards from your opponent's hand that they don't want.
External links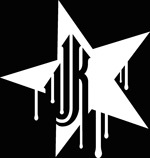 "Art is Life" - Jomaro Kindred[1]
Jomaro Kindred is a former Senior Concept Artist on the Team 5 Hearthstone development team,[2] as well as artist for the cards listed here.
Kindred shared 2D art duties with Lead Artist Ben Thompson, and created the chalkboards used in Tavern Brawls.[3][4] Before joining the team, the first Thompson saw of Kindred's art were two card backs shared on his personal site, themed after the Alliance and the Horde.[3]
Kindred joined the team on June 10th, 2014.[5] Prior to joining Team 5, Kindred was Senior Concept Artist with Nerve Software. His previous credits include the 2010 Xbox port of DOOM II, as well as Call of Duty: Black Ops and Aliens: Colonial Marines.[6]
Kindred worked for Blizzard until August 7, 2018.[7] He joined Second Dinner officially on August 15, 2018 as its Art Director.[8][9]
Notes
[
]
Key art
[
]
Other art
[
]
Trivia
[
]
Kindred plays World of Warcraft, as well as Overwatch.[17][14] As of 2017 Kindred has at least one character of each World of Warcraft class at max level,[18] and is one of several players on Team 5 who plays regular games of Overwatch on their lunch break.[14]
While creating the card art for the

Lone Champion

in Kobolds & Catacombs, Kindred took the opportunity to "put himself in the game" by modeling the Lone Champion's appearance after himself. As a result, Lone Champion is also Kindred's favorite character from the set.[19]
Kindred sometimes streams himself creating art on his Twitch account.
Card art
[
]
The art for Kindred's credits card was created by and depicts
Grommash Hellscream wielding
Gorehowl.[20]
Gallery
[
]
Patch changes
[
]
Some time between November, 2016 and March, 2017: Title changed from Concept Artist to Senior Concept Artist.
Patch 2.7.0.9166 (2015-06-15): Added to the game's credits with the 2015 update. Credits card added.
(2014-06-10): Joined Team 5.
References
[
]
External links
[
]
Selected media