Jolene Knottley
Regular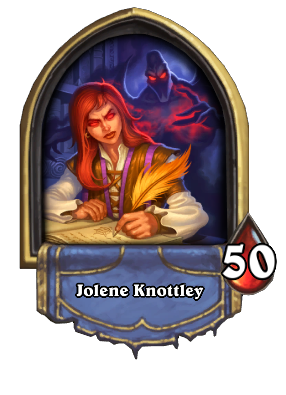 Gold
Flavor text
Jolene's writing is absolute madness. Her grammar is worse.
External links
Jolene Knottley is a boss that can be encountered initially in Chapter 2 of Tombs of Terror. After completing Chapter 2, this boss encounter will be available in any completed chapter.
Hero Powers
[
]
| Normal | Heroic |
| --- | --- |
| | |
Decks
[
]
The below classes are listed purely for reference, and have no effect on the boss' use of the cards during the battle.
Strategy
[
]
Dialogue
[
]
Introduction
Jolene Knottley

I've got a story for you... no... about you...
Elise... I love your work... won't you star in mine? (vs. Elise Starseeker)
Emote Response
Jolene Knottley

I'll have to write that one down...
Hero Power
Jolene Knottley

How will you ever get out of this?
I'll bookmark this for later.
Just one more page...
Ooh, I like what happens next.
This one's a real page turner.
Idle
Jolene Knottley

I came here to write the great Azerothian novel, you know.
But now... I want to write about the fall of Azeroth.
And it's going to start with you... failing to stop the plagues.
Boss cards
Jolene Knottley

Soul Infusion

Oh, this chapter is particularly captivating...

Gnomeferatu

...and this little gnome burned your cards...

Siphon Soul

I could use a bit more ink for my pen... this should do.
Player's cards
Jolene Knottley

Any Plague card

The plagues being controlled by you, hm? That... was not written.

Book of Specters

Can I borrow that book when you're finished?

Book of the Dead

Well it's no surprise how THAT one ends...
Death
Jolene Knottley

Fin...
Defeat
Jolene Knottley

All good stories must come to an end, I suppose.
Lore
[
]
Gallery
[
]
Patch changes
[
]
Tombs of Terror
Heroes
Chapter 1:
The Lost City

| | |
| --- | --- |
| Level 1 | |
| Level 2 | |
| Level 3 | |
| Level 4 | |
| Level 5 | |
| Level 6 | |
| Level 7 | |
| Level 8 | |

Chapter 2:
Scorching Dunes

| | |
| --- | --- |
| Level 1 | |
| Level 2 | |
| Level 3 | |
| Level 4 | |
| Level 5 | |
| Level 6 | |
| Level 7 | |
| Level 8 | |

Chapter 3:
Khartut's Tomb

| | |
| --- | --- |
| Level 1 | |
| Level 2 | |
| Level 3 | |
| Level 4 | |
| Level 5 | |
| Level 6 | |
| Level 7 | |
| Level 8 | |

Chapter 4:
Halls of Origination

| | |
| --- | --- |
| Level 1 | |
| Level 2 | |
| Level 3 | |
| Level 4 | |
| Level 5 | |
| Level 6 | |
| Level 7 | |
| Level 8 | |

Chapter 5:
The Inner Sanctum
Tavern