Jason Chayes
Regular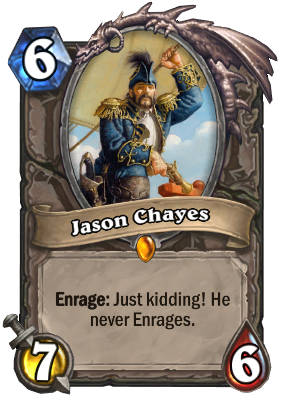 Enrage:
Just kidding! He never Enrages.
External links
Jason Chayes is a former Blizzard employee who served as Production Director for Hearthstone. He is featured in the credits card of the same name.
At some point, Chayes left the Hearthstone team and move to another project within the company in the form of a StarCraft first-person shooter game. The project was cancelled in May of 2019, after which Chayes left Blizzard alongside Dustin Browder and Eric Dodds.[1]
Official
[
]
As Blizzard Entertainment's production director for Hearthstone: Heroes of Warcraft, Jason Chayes is responsible for the management of the development team, including execution strategy, staffing, process development, and ordering pizza when the team is hungry. In addition to providing support for the team, Chayes is also responsible for coordinating with other groups at Blizzard to ensure the delivery of the cross-team features necessary to support the release of new Hearthstone content.
Chayes joined Blizzard Entertainment in 2008, and worked as a 3D artist in a prior life for The Walt Disney Company and Electronic Arts. Since joining Blizzard, Jason has also acted as lead producer for the Battle.net team and helped out with the development of key features for StarCraft II and Diablo III.[2]
Notes
[
]
Chayes was brought to Blizzard in 2008 specifically in order to work on Hearthstone.[3]
Card art
[
]
The art for Chayes' credits card was created by Mark Zug[4] and depicts Grand Admiral Daelin Proudmoore, the late father of Jaina Proudmoore.
Gallery
[
]
References
[
]
External links
[
]
Video
Hearthstone: The Grand Tournament: Special Event - Video/Podcast: Hearthstone production director Jason Chayes talks about the game and offer a behind-the-scenes look into the development of the latest expansion, The Grand Tournament. Duration: 23 mins. (2015-09-25)
Selected media