Jade Swarmer
Jade Swarmer
| | |
| --- | --- |
| Set: | Mean Streets of Gadgetzan |
| Type: | Minion |
| Class: | Rogue |
| Rarity: | Common |
| Cost: | 2 |
| Attack: | 1 |
| Health: | 1 |
| Abilities: | Deathrattle, Stealth, Summon |
| Artist: | Slawomir Maniak |
Stealth
Deathrattle: Summon a Jade Golem.
He's so good at swarming, he can swarm all by himself!
Jade Swarmer is a common rogue minion card, from the Mean Streets of Gadgetzan set.
Jade Swarmer can be obtained through Mean Streets of Gadgetzan card packs, or through crafting.
| Card | Crafting cost | Disenchanting |
| --- | --- | --- |
| Jade Swarmer | 40 | 5 |
| Golden Jade Swarmer | 400 | 50 |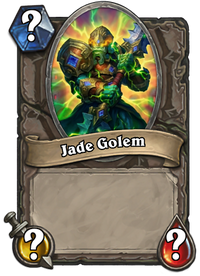 Although not providing good stats for its cost (1 Attack and 1 Health), it synergizes well with Jade Golems, and by having Stealth is resistant to direct attacks. He is vulnerable to AoE however.
In the late game, this card is particularly strong, with the potential to summon a 8/8 or even 9/9 Jade Golem.
As a 2-Mana minion with Stealth and Deathrattle, it curves into Unearthed Raptor incredibly well. Also works particularly well with a deck that runs N'Zoth, the Corruptor.
Summon

The hidden army rises!
Attack

Swarm!