"

Members of the Jade Lotus family excel in the ancient arts of stealth, assassination, and turning

murlocs

into finjas. Yeah, I said finjas. Don't give me that look. I didn't come up with that name. Rumor has it they're meddling with some sort of ancestral juju and hitting the local art and relic exhibits—I don't know how true that is, but I'll tell you one thing: the statues outside their business are

really creepy

.

"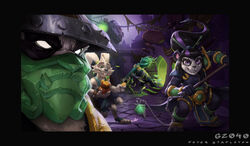 The secret arts of the Jade Lotus come to life through Rogues, Shamans, and Druids. These mystics and assassins lurk in the shadows, waiting for the next unfortunate target to walk down the wrong alley. Utilizing ancient and forbidden arts, the Jade Lotus and their mysterious leader have their own way of taking care of business—efficiently and quietly. Rumor has it they have an even greater secret just waiting to be unearthed...
Tri-Class cards
Images
Community content is available under
CC-BY-SA
unless otherwise noted.