Jade Claws
Jade Claws
| | |
| --- | --- |
| Set: | Mean Streets of Gadgetzan |
| Type: | Weapon |
| Class: | Shaman |
| Rarity: | Rare |
| Cost: | 2 |
| Attack: | 2 |
| Durability: | 2 |
| Abilities: | Battlecry, Overload, Summon |
| Artist: | A.J. Nazzaro |
Battlecry: Summon a Jade Golem. Overload: (1)
"Best manicure ever!" - Aya Blackpaw
Jade Claws is a rare shaman weapon card, from the Mean Streets of Gadgetzan set.
Jade Claws can be obtained through Mean Streets of Gadgetzan card packs, or through crafting.
| Card | Crafting cost | Disenchanting |
| --- | --- | --- |
| Jade Claws | 100 | 20 |
| Golden Jade Claws | 800 | 100 |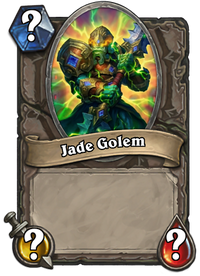 Though it can be considered as a worse, but more stable version of Spirit Claws, Jade Claws requires no condition to work and therefore can be used with more consistency, because it does not relies on Spell Damage.
It also fits well alongside Spirit Claws in a weapon-heavy Aggro Shaman deck, allowing for more consistent synergies with cards like Southsea Deckhand and Small-Time Buccaneer.