Jace Darkweaver
Regular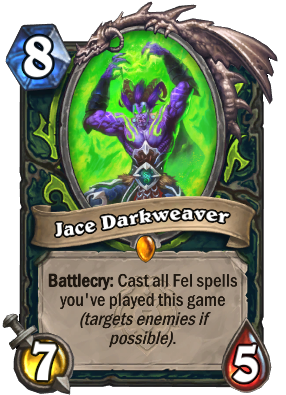 Gold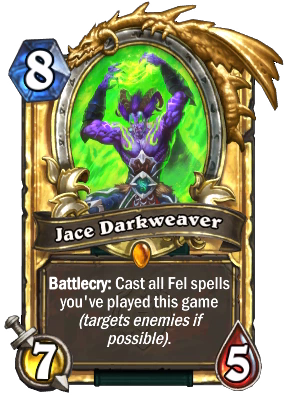 Battlecry:
Cast all Fel spells you've played this game
(targets enemies if possible)
.
Flavor text
As a former mage, making the transition from fire to felfire was quite easy.
External links
Jace Darkweaver is a legendary demon hunter minion card, from the United in Stormwind set.
How to get
[
]
Jace Darkweaver can be obtained by:
Notes
[
]
Strategy
[
]
A similar effect compared to Yogg Saron Hope's End, Shudderwock, and Tess Greymane. Jace Darkweaver requires Fel spells to be included in decks to make the most use out of him as possible.
Metamorphosis, Eye Beam, Mana Burn, Fury, Chaos Strike, Chaos Leech, Metamorphosis, Chaos Nova, Immolation Aura, are great Fel spells to be used for Jace Darkweaver.
It has variety of uses. It can be used to stack alot of attack on your Hero, as well as getting Metamorphosis Hero power, or simply remove the board.
Sounds
[
]
Summon
Attack
Death
Lore
[
]

This section uses content from Wowpedia.
Jace Darkweaver is a night elven demon hunter of the Illidari, initially found as a quest giver on Mardum. He used to be a mage and still retains some knowledge of the arcane, but the fel makes it near impossible to use. One thing he can still manage is the occasional spell to glimpse faraway places.
Jace appears to be quite analytical and intelligent, serving as the technological brains behind the Illidari. He has shown the ability to create demonic wards and handles the maintenance and upgrades to the Illidari's Legion ship, the Fel Hammer.He be recruited as a class order champion.
Gallery
[
]
Patch changes
[
]
References
[
]