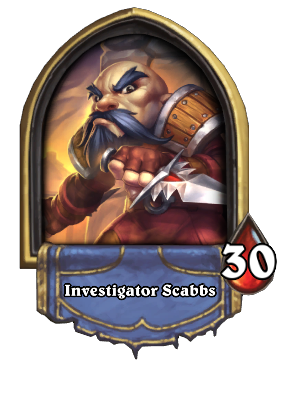 For other representations of Scabbs, see Scabbs Cutterbutter (disambiguation).
Investigator Scabbs is an alternate hero for the

Rogue class.
How to get
[
]
Investigator Scabbs is obtained by purchasing the Tavern Pass and reaching level 55 in the United in Stormwind's Rewards Track.
Functionality
[
]
Once unlocked and selected for use, Investigator Scabbs replaces Valeera Sanguinar whenever the player uses a Rogue deck, as well as:
Comes with own portrait
Has custom emotes
For more information, see Alternate heroes.
Flavor text
[
]
When viewed in the Collection, Investigator Scabbs has the following flavor text:
Scabbs is not a fan of undercover spies. That's his job!
Earnable after purchasing the Tavern Pass.
Sounds
[
]
Each hero has their own selection of audio and written emotes that are produced in response to specific events. For more information, see Emote.
Most of Investigator Scabbs's sounds are the same as Chef Scabbs. Unique, different ones are noted as Unique in References section.
| Type | Transcript |
| --- | --- |
| Trigger: Assassinate | Link▶️Assassinate! |
| Trigger: Shroud of Concealment | Link▶️Stick to the shadows. |
| Trigger: Sprint | Link▶️Gotta go fast. |
| Trigger: Wicked Stab(Rank 1, 2, 3) | Link▶️Gotcha! |
| Attack [1] | Link▶️You mess with me?![1] |
| Death [1] | Link▶️<Death> |
| Emote: Greetings | Link▶️Greetings.[1] |
| Emote: Well Played | Link▶️Not bad.[1] |
| Emote: Oops | Link▶️This is fine.[1] |
| Emote: Threaten | Link▶️I'll cut ya down to my size![1] |
| Emote: Thanks | Link▶️Thanks![1] |
| Unused: Sorry | Link▶️You should send that back to the kitchen. |
| Start | Link▶️The name's Butter…Cutterbutter.[1] |
| Thinking [1] | Link▶️Hmm… |
| Thinking [2] | Link▶️What should I order? |
| Thinking [3] | Link▶️Hold on, I'm gettin' inspiration. |
| Error: Need a weapon | Link▶️I need something to cut with! |
| Error: Not enough mana | Link▶️Need more fuel. |
| Error: Minion exhausted | Link▶️That minion already attacked. |
| Error: Hero already attacked | Link▶️I already attacked. |
| Error: Minion not ready | Link▶️Give that minion a turn to get ready. |
| Error: Hand already full | Link▶️I'm stuffed! |
| Error: Can't target Stealthed minion | Link▶️I can't attack a minion with Stealth. |
| Error: Can't play that card | Link▶️I can't play that. |
| Error: Not a valid target | Link▶️That's not a legal target. |
| Error: Must attack Taunt minion | Link▶️A minion with Taunt is in the way. |
| Error: Generic | Link▶️I can't do that. |
| Selection in Choose Your Hero | Link▶️There's a traitor in the court. I'll get to the bottom of this.[1] |
| Emote: Greetings [Lunar New Year] | Link▶️Happy New Year! |
| Start [Mirror] | Link▶️Never reveal your identity, agent![1] |
| Emote: Greetings [Holidays] | Link▶️Happy Holidays! |
| Emote: Wow | Link▶️Wow![1] |
| Emote: Greetings [Happy New Year] | Link▶️Happy New Year! |
| Emote: Greetings [Fire Festival] | Link▶️Happy Fire Festival! |
| Unused: Greetings [Pirate Day] | Link▶️Pirate Day? What do you know about the Defias Brotherhood? |
| Emote: Greetings [Happy Halloween] | Link▶️Happy Hallow's End! Want some homemade candy? |
| Unused: Greetings [Happy Noblegarden] | Link▶️Happy Noblegarden! Can I interest you in an omelette? |
| Emote: Greetings [Mirror] | Link▶️Charmed, I'm sure.[1] |
| Concede | Link▶️My goose is cooked. |
| Running out of time | Link▶️Do you hear that sizzle? |
| Almost out of cards | Link▶️I'm running low on ingredients. |
| Out of cards | Link▶️My pantry is bare! |
| Error: Too many minions | Link▶️There's no room for that minion. |
Patch changes
[
]
References
[
]