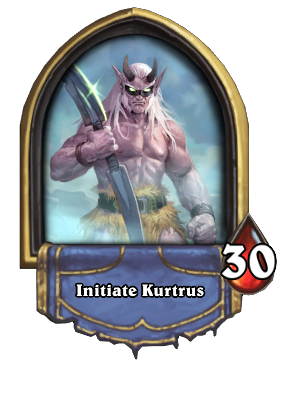 For other representations of Kurtrus, see Kurtrus Ashfallen (disambiguation).
Initiate Kurtrus is an alternate hero for the

Demon Hunter class.
Background
[
]
This is one of Kurtrus' appearances.
How to get
[
]
Initiate Kurtrus is obtained by purchasing the Tavern Pass and reaching level 10 in the Forged in the Barrens' Rewards Track.
Functionality
[
]
Once unlocked and selected for use, Initiate Kurtrus replaces Illidan Stormrage whenever playing with a Demon Hunter deck, as well as:
Comes with his own portrait
Has custom emotes
For more information, see Alternate heroes.
Flavor text
[
]
When viewed in the Collection, Initiate Kurtrus has the following flavor text:
Kurtrus found that a beginner demon hunter is mainly armed with rage.
Earnable after purchasing the Tavern Pass.
Sounds
[
]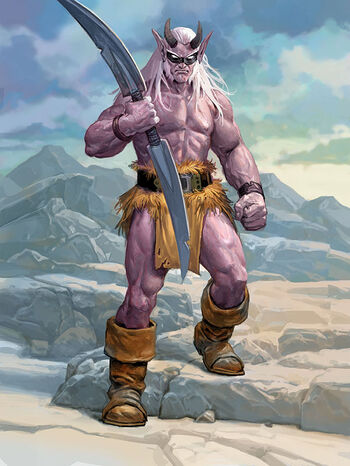 Each hero has their own selection of audio and written emotes that are produced in response to specific events. For more information, see Emote.
| Type | Transcript |
| --- | --- |
| Trigger: Chaos Nova | Link▶️Total chaos! |
| Trigger: Coordinated Strike | Link▶️Join me and fight! |
| Trigger: Feast of Souls | Link▶️War has much to teach us. |
| Trigger: Fury(Rank 1, 2, 3) | Link▶️<Roar of rage> |
| Trigger: Inner Demon | Link▶️At any cost! |
| Trigger: Metamorphosis | Link▶️I have nothing left but this power! |
| Trigger: Skull of Gul'dan | Link▶️Warlocks…all the same. |
| Trigger: Spectral Sight | Link▶️I'll never stop searching. |
| Attack [1] | Link▶️<Attack exertion> |
| Attack [2] | Link▶️<Attack exertion> |
| Death [1] | Link▶️<Death> |
| Emote: Greetings | Link▶️Greetings. |
| Emote: Well Played | Link▶️Well played. |
| Emote: Oops | Link▶️Oops. |
| Emote: Threaten | Link▶️Quake before me. |
| Emote: Thanks | Link▶️Thank you. |
| Unused: Sorry | Link▶️You have my pity. |
| Concede | Link▶️No, wait! |
| Start | Link▶️My quest begins… |
| Running out of time | Link▶️The shadows grow long. |
| Thinking [1] | Link▶️My hunt goes on. |
| Thinking [2] | Link▶️The answer is here. |
| Thinking [3] | Link▶️Hmm… |
| Almost out of cards | Link▶️I'm running low on cards. |
| Out of cards | Link▶️I am out of cards! |
| Error: Need a weapon | Link▶️I need a weapon! |
| Error: Not enough mana | Link▶️I do not have enough mana. |
| Error: Minion exhausted | Link▶️That minion has already attacked. |
| Error: Hero already attacked | Link▶️Not yet. |
| Error: Minion not ready | Link▶️Give that minion a turn to get ready. |
| Error: Hand already full | Link▶️My hand is too full! |
| Error: Too many minions | Link▶️My board is full. |
| Error: Can't target Stealthed minion | Link▶️That minion has Stealth. |
| Error: Can't play that card | Link▶️Impossible. |
| Error: Not a valid target | Link▶️I cannot target that. |
| Error: Must attack Taunt minion | Link▶️Do you see the minion with Taunt? |
| Error: Generic | Link▶️Not happening. |
| Selection in Choose Your Hero | Link▶️I have but one purpose. |
| Emote: Greetings [Lunar New Year] | Link▶️Happy New Year! |
| Start [Mirror] | Link▶️…And ends…with Anetheron. |
| Emote: Greetings [Holidays] | Link▶️Happy Feast of Winterveil. Did you get me a new war glaive? |
| Emote: Wow | Link▶️Wow. |
| Emote: Greetings [Happy New Year] | Link▶️Happy New Year! |
| Emote: Greetings [Fire Festival] | Link▶️Enjoy this day, but I do not like the fire. |
| Unused: Greetings [Pirate Day] | Link▶️Today I make demons walk the plank. |
| Emote: Greetings [Happy Halloween] | Link▶️It is Hallow's End. Beware of demons lurking about. |
| Unused: Greetings [Happy Noblegarden] | Link▶️Noblegarden? I hunt demons, not eggs. |
| Emote: Greetings [Mirror] | Link▶️Skip the pleasantries. |
| Start [Illidan] | Link▶️I cannot rest until Anetheron falls. |
| Start [Mecha-Jaraxxus] | Link▶️Enjoy your final worthless breath, demon. |
| Upcoming | First, you must go through me. |
Patch changes
[
]
References
[
]