Infiltrator Lilian
Infiltrator Lilian
| | |
| --- | --- |
| Set: | Scholomance Academy |
| Type: | Minion |
| Class: | Rogue |
| Rarity: | Legendary |
| Cost: | 4 |
| Attack: | 4 |
| Health: | 2 |
| Abilities: | Deathrattle, Force attack, Stealth, Summon |
| Tags: | Random |
| Artist: | Alex Horley Orlandelli |
| Voice actor: | Cree Summer |
Stealth
Deathrattle: Summon a 4/2 Forsaken Lilian that attacks a random enemy.
She'll get to the bottom of this even if it kills her. Twice!
See this card on PlayHearthstone
For other representations of Lilian, see Lilian Voss (disambiguation).
Infiltrator Lilian is a legendary rogue minion card, from the Scholomance Academy set.
Infiltrator Lilian can be obtained through Scholomance Academy card packs, through crafting, or as an Arena reward.
| Card | Crafting cost | Disenchanting |
| --- | --- | --- |
| Infiltrator Lilian | 1600 | 400 |
| Golden Infiltrator Lilian | 3200 | 1600 |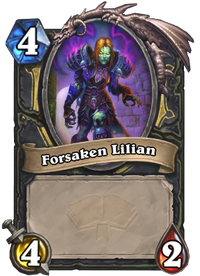 This minion is good in Aggro decks, but is somewhat unimpressive for a Legendary card. Infiltrator Lilian has the same stats as a Jungle Panther, but costs one more mana for her deathrattle. Said deathrattle can be strong, but can be unpredictable and something the opponent can easily play around by having a wider board. Lilian as at her best when supported by Stealth-related synergy cards, like Greyheart Sage or Ashtongue Slayer. In Wild, dearthrattle synergies like Necrium Vial or Baron Rivendare can turn her into a very powerful threat.
Aggro rogues might also use a Backstab on this card to make Lilian to attack twice. On an empty enemy board, this effectively makes her able to do 8 damage in a single turn to the opponent's face, letting her push plenty of damage and potentially finish the game.
Summon
Attack
Death
This card depicts Lilian Voss back when she was a living human affiliated with the Scarlet Crusade, before she became an undead. In Hearthstone, she is likely infiltrating Scholomance Academy to learn more of Headmaster Kel'Thuzad's Cult of the Damned.