No Man's Sky Update - The Loop
Play Sound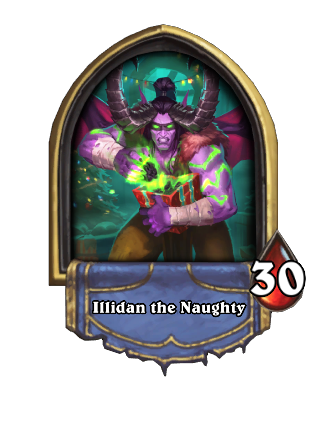 Illidan the Naughty is a hero skin for the demon hunter class.
How to get
Illidan the Naughty is currently unavailable for obtaining.
Hero Power
Functionality
Main article: Alternate heroes
Once unlocked and selected for use, Illidan the Naughty replaces Illidan Stormrage whenever the player uses a Demon Hunter deck, as well as:
Comes with own portrait
Has custom emotes
Flavor text
When viewed in the Collection, Illidan the Naughty has the following flavor text:
He would like to know who gifted him a lump of coal, but the real question is who wouldn't. Obtained by purchasing the Winter Veil Cheer bundle.
Sounds
| Type | | Transcript |
| --- | --- | --- |
| | Link▶️ | Now I am complete! |
| | Link▶️ | Burn away to ash… |
| | Link▶️ | Serve your master! |
| | Link▶️ | Alas, poor warlock… |
| | Link▶️ | We all have demons. |
| | Link▶️ | I see… |
| Attack | Link▶️ | Here's your gift! |
| Attack | Link▶️ | <Attack> |
| Attack | Link▶️ | <attack sound> |
| Death | Link▶️ | <death sound> |
| Emote: Greetings | Link▶️ | Bah, humbug. |
| Emote: GreetingsEmote: Greetings [Mirror] | Link▶️ | We can agree on that. |
| Start [Mirror] | Link▶️ | Me?! How is that possible? |
| Emote: Oops | Link▶️ | Who saw that? |
| Start | Link▶️ | You're on my list! |
| Emote: Thanks | Link▶️ | I should thank you. I'm just not good at it. |
| Emote: Threaten | Link▶️ | Do you want to know what I did to end up like this? |
| Emote: Well Played | Link▶️ | Delightfully devious! |
| Emote: Wow | Link▶️ | Wicked! |
| Concede | Link▶️ | I yield—for now. |
| Error: Too many minions | Link▶️ | I command too many. |
| Error: Generic | Link▶️ | Not possible. |
| Error: Hand already full | Link▶️ | My hand is full! |
| Error: Hero already attacked | Link▶️ | I already struck! |
| Error: Minion exhausted | Link▶️ | It cannot attack again. |
| Error: Not enough mana | Link▶️ | My mana is too low. |
| Error: Need a weapon | Link▶️ | I require a weapon. |
| Error: Can't play that card | Link▶️ | I cannot... |
| Error: Can't target Stealthed minion | Link▶️ | That one lurks in stealth. |
| Error: Minion not ready | Link▶️ | That one is NOT prepared. |
| Error: Not a valid target | Link▶️ | I cannot reach that. |
| Error: Must attack Taunt minion | Link▶️ | Another taunts me! ME! |
| Emote: Greetings [Fire Festival] | Link▶️ | Our fires shall burn brighter than the Legion itself! |
| Emote: Greetings [Happy Halloween] | Link▶️ | Darkness surrounds us… It's Hallow's End! |
| Emote: Greetings [Holidays] | Link▶️ | There are no holidays for betrayers. |
| Emote: Greetings [Happy New Year] | Link▶️ | Happy New Year! |
| Emote: Greetings [Lunar New Year] | Link▶️ | Happy New Year! |
| Unused: Greetings [Happy Noblegarden] | Link▶️ | Hunting for eggs is fine practice for hunting demons. |
| Almost out of cards | Link▶️ | Not many cards left… |
| Out of cards | Link▶️ | I am out of cards! |
| Unused: Greetings [Pirate Day] | Link▶️ | All aboard the SS Betrayer to sail the seas of treachery! |
| Selection in Choose Your Hero | Link▶️ | The naughty ones always come out ahead in fights… |
| Unused: Sorry | Link▶️ | I apologize. |
| Thinking | Link▶️ | Hm... |
| Thinking | Link▶️ | Demons? Demons. |
| Thinking | Link▶️ | I grow impatient. |
| Running out of time | Link▶️ | Time grows short. |
| | Link▶️ | I will prove myself to you. |
| | Link▶️ | It isn't over between us, brother. |
| | Link▶️ | You cannot hunt a demon hunter. |
| | Link▶️ | Let us test our strength. |
| | Link▶️ | Today and forever I am your better, Arthas. |
| | Link▶️ | Back for more, demon? |
| | Link▶️ | I will not hold back this time. |
Patch changes
References
[
]