Ichoron
Regular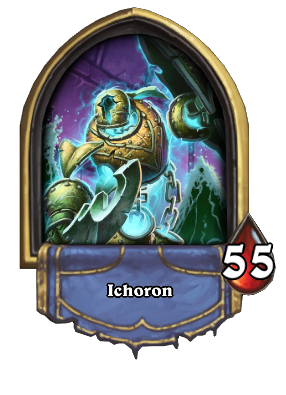 Gold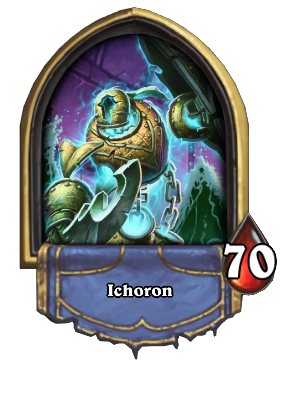 Flavor text
This elemental is double the trouble and triple the bubble.
External links
Ichoron is a boss that can be encountered in Chapter 2 of The Dalaran Heist adventure.
Hero Power
[
]
| Normal | Heroic |
| --- | --- |
| | |
| | Auto-cast |
Decks
[
]
The below classes are listed purely for reference, and have no effect on the boss' use of the cards during the battle.
Strategy
[
]
Ichoron's hero power will give each minion an extra turn of survival. You need to find a way to remove those shield before attacking with big minions. An example of this is with one damage cards like Arcane Explosion or a Silver Hand Recruit.
Dialogue
[
]
Before match
Swampqueen Hagatha

Ichoron is pure hate in liquid form. Magnificent!
Introduction
Ichoron

Stand aside mortals!
vs. Rakanishu

Ichoron

A tiny flame? That's it?

Rakanishu

Don't. Underestimate me.
Emote Response
Ichoron

Drown beneath the waves!
Hero Power
Ichoron

Giving a Divine Shield

Overcome any obstacle...
Take any shape...
Water can hold any form...

Divine Shield is removed

The tide shall return!
You cannot turn the tides of battle.
You rage against the waves of the ocean?!
Idle
Ichoron

If you listen closely, you can hear the sound of the ocean!
Why do you idle?
You delay my escape.
Boss cards
Ichoron

Healing Rain

The rains... reinvigorate me!

Tidal Surge

My wrath will crush you!

Water Elemental

The tides come for you!
Player's cards
Ichoron

Lightning spell

No! You would turn the storm against me?!

Fire spell

I will snuff out your flames!

Mech

Rust and crumble before the raging waters.
Misc
Ichoron

I am a force of nature!
I am fury unrestrained.
Look now to the wrath of the pounding sea!
Death
Ichoron

(yell)
Defeat
Ichoron

Swept away by the tides.
Lore
[
]

This section uses content from Wowpedia.
Ichoron is a water revenant boss located in Violet Hold.
A foolish apprentice summoned this revenant from the Elemental Plane, only to discover that disgruntled soldiers of the Old Gods make poor pets. Ichoron slew her would-be master and has rotted in the Violet Hold ever since, eager to wreak vengeance on her jailors.
Gallery
[
]
Patch changes
[
]
The Dalaran Heist
Heroes
Chapter 1: Dalaran Bank

| | |
| --- | --- |
| Level 1 | |
| Level 2 | |
| Level 3 | |
| Level 4 | |
| Level 5 | |
| Level 6 | |
| Level 7 | |
| Level 8 | |

Chapter 2: The Violet Hold

| | |
| --- | --- |
| Level 1 | |
| Level 2 | |
| Level 3 | |
| Level 4 | |
| Level 5 | |
| Level 6 | |
| Level 7 | |
| Level 8 | |

Chapter 3: Streets of Dalaran

| | |
| --- | --- |
| Level 1 | |
| Level 2 | |
| Level 3 | |
| Level 4 | |
| Level 5 | |
| Level 6 | |
| Level 7 | |
| Level 8 | |

Chapter 4: The Underbelly

| | |
| --- | --- |
| Level 1 | |
| Level 2 | |
| Level 3 | |
| Level 4 | |
| Level 5 | |
| Level 6 | |
| Level 7 | |
| Level 8 | |

Chapter 5: Kirin Tor Citadel

| | |
| --- | --- |
| Level 1 | |
| Level 2 | |
| Level 3 | |
| Level 4 | |
| Level 5 | |
| Level 6 | |
| Level 7 | |
| Level 8 | |
| Level 9 | |
| Level 10 | |
| Level 11 | |
| Level 12 | |

Tavern