Ichabod the Cursed
Regular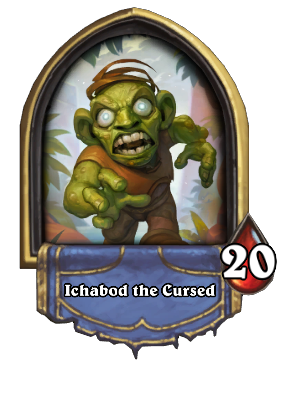 Gold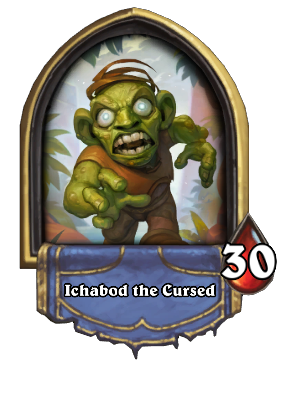 Flavor text
These gnomes are cursed! And you, too, will curse them.
External links
Ichabod the Cursed is a boss that can be encountered initially in Chapter 3 of Tombs of Terror. After completing Chapter 3, this boss encounter will be available in any completed chapter.
Hero Powers
[
]
| Normal | Heroic |
| --- | --- |
| | |
Summoned minions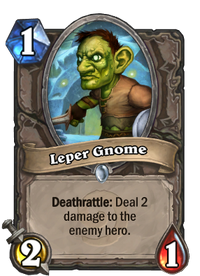 Decks
[
]
The below classes are listed purely for reference, and have no effect on the boss' use of the cards during the battle.
These decks correspond only to level 4. If this boss is encountered on level 3, his deck will be missing 5 random cards.
Strategy
[
]

Please add any available information to this section.
Dialogue
[
]
Introduction
Ichabod the Cursed

Something icky's going around!
Oh dear. Do you need a hanky?
Please... don't... touch me.
Emote Response
Ichabod the Cursed

Don't make me sneeze on you.
Hero Power
Ichabod the Cursed

'Scuse me.
Oh curses!
Under the weather?
It's going around!
You've got a bad case of us!
Idle
Ichabod the Cursed

At first I thought it was just a head cold...
I used to be like you—healthy, sane, boring...
What's wrong? Feeling too normal?
Boss cards
Ichabod the Cursed

Cheat Death returning Leper Gnome

Wipe off the sand, you'll be okay!

Plague Scientist

This one promised to cure me…

Necrium Blade

Let's try a more direct approach, shall we?
Player's cards
Ichabod the Cursed

Diseased Vulture

Nice birdy!

"Gnomebliterator"

Nooo!!! ANYTHING BUT THAT!

Unknown

VO_ULDA_BOSS_17h_Male_Gnome_PlayerTrigger_Cursed_Lieutenant_01 My curse is better.
Death
Ichabod the Cursed

(yell)
Defeat
Ichabod the Cursed

Too bad. You were just catching on...
Lore
[
]
Ichabod the Cursed is unique to Hearthstone.
Gallery
[
]
Patch changes
[
]
Tombs of Terror
Heroes
Chapter 1:
The Lost City

| | |
| --- | --- |
| Level 1 | |
| Level 2 | |
| Level 3 | |
| Level 4 | |
| Level 5 | |
| Level 6 | |
| Level 7 | |
| Level 8 | |

Chapter 2:
Scorching Dunes

| | |
| --- | --- |
| Level 1 | |
| Level 2 | |
| Level 3 | |
| Level 4 | |
| Level 5 | |
| Level 6 | |
| Level 7 | |
| Level 8 | |

Chapter 3:
Khartut's Tomb

| | |
| --- | --- |
| Level 1 | |
| Level 2 | |
| Level 3 | |
| Level 4 | |
| Level 5 | |
| Level 6 | |
| Level 7 | |
| Level 8 | |

Chapter 4:
Halls of Origination

| | |
| --- | --- |
| Level 1 | |
| Level 2 | |
| Level 3 | |
| Level 4 | |
| Level 5 | |
| Level 6 | |
| Level 7 | |
| Level 8 | |

Chapter 5:
The Inner Sanctum
Tavern