Roblox: DeepWoken - The Loop
Play Sound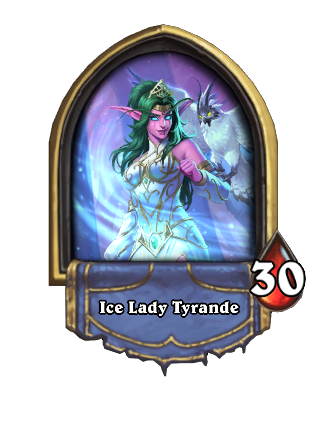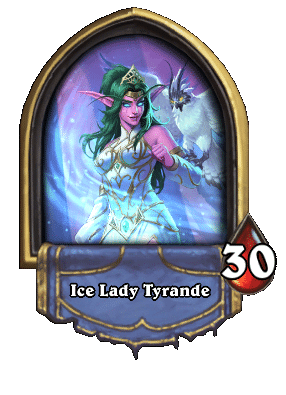 Ice Lady Tyrande is an alternate hero for the priest class.
How to get
Ice Lady Tyrande is currently unavailable for obtaining.
Previous availability
Functionality
Main article: Alternate heroes
Once unlocked and selected for use, Ice Lady Tyrande replaces Anduin Wrynn whenever the player uses a Priest deck, as well as:
Comes with own portrait
Has custom emotes
Flavor text
When viewed in the Collection, Ice Lady Tyrande has the following flavor text:
Over the years, Tyrande has learned that even the coldest winters can bring flights of joy. Obtained by purchasing the Winter Veil Chill bundle.
Sounds
| Type | Transcript |
| --- | --- |
| Attack [1] | Link▶️Do not test me. |
| Death [1] | Link▶️ |
| Emote: Greetings | Link▶️Keep a cool head. |
| Emote: Well Played | Link▶️I see you are staying frosty. |
| Emote: Oops | Link▶️That one slid off track. |
| Emote: Threaten | Link▶️Winter is the best season for silence. |
| Emote: Thanks | Link▶️You have my thanks. |
| Unused: Sorry | Link▶️Forgive me. |
| Concede | Link▶️It is finished. You win. |
| Start | Link▶️Behold the power of the winter winds! |
| Running out of time | Link▶️Make haste! |
| Thinking [1] | Link▶️Hmm… |
| Thinking [2] | Link▶️I wonder… |
| Thinking [3] | Link▶️What is Elune's will… |
| Almost out of cards | Link▶️I am almost out of cards. |
| Out of cards | Link▶️I am out of cards! |
| Error: Need a weapon | Link▶️I need a weapon. |
| Error: Not enough mana | Link▶️I don't have enough Mana. |
| Error: Minion exhausted | Link▶️That minion already attacked. |
| Error: Hero already attacked | Link▶️I already attacked. |
| Error: Minion not ready | Link▶️Give that minion a turn to get ready. |
| Error: Hand already full | Link▶️My hand is full! |
| Error: Too many minions | Link▶️I have too many minions! |
| Error: Can't target Stealthed minion | Link▶️I cannot target Stealthed minions. |
| Error: Can't play that card | Link▶️I cannot play that. |
| Error: Not a valid target | Link▶️That is not a valid target. |
| Error: Must attack Taunt minion | Link▶️A minion with Taunt is in the way. |
| Error: Generic | Link▶️I cannot do that. |
| Selection in Choose Your Hero | Link▶️Winter is no threat to those who possess true strength. |
| Emote: Greetings [Lunar New Year] | Link▶️Happy New Year! |
| Start [Mirror] | Link▶️And the snow and ice beside them! |
| Emote: Greetings [Holidays] | Link▶️Happy Feast of Winter Veil! |
| Emote: Wow | Link▶️Extraordinary! |
| Emote: Greetings [Happy New Year] | Link▶️Happy New Year! |
| Emote: Greetings [Fire Festival] | Link▶️Happy Midsummer Festival. |
| Unused: Greetings [Pirate Day] | Link▶️Power Word: Yarrrrr! |
| Slienced | Link▶️ |
| Emote: Greetings [Happy Halloween] | Link▶️Happy Hallow's End. |
| Unused: Greetings [Happy Noblegarden] | Link▶️Happy Noblegarden. |
| Emote: Greetings [Mirror] | Link▶️I could hardly do otherwise! |
| Start [Malfurion] | Link▶️My dear Malfurion. |
| Start [Illidan Stormrage] | Link▶️Raw power is no substitute for true strength. |
Patch changes
References
[
]