I Am Murloc
Regular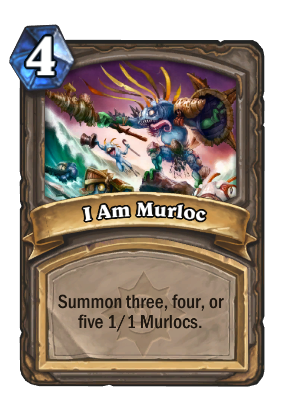 Gold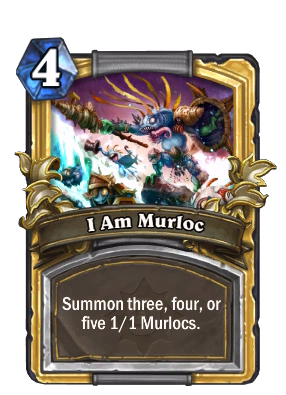 Summon three, four, or five 1/1 Murlocs.
External links
I Am Murloc is a spell card that summons three, four or five Murlocs. It is one of the Power Chord cards that can be gained through the battlecry of Elite Tauren Chieftain, and is uncollectible.
For more information, see Elite Tauren Chieftain.
Generated by
[
]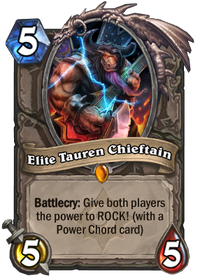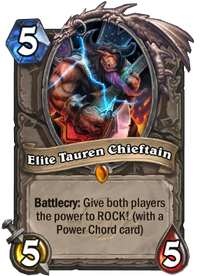 Summoned minions
[
]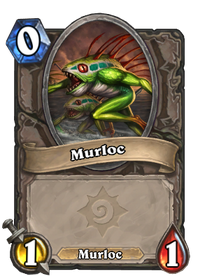 Trivia
[
]
The three smaller murlocs in the bottom left of the art for I Am Murloc are (from top to bottom) Murky, Grunty and Murkimus, special World of Warcraft murloc companions rewarded from BlizzCon 2005 and 2009, and the Arena Tournament 2009, respectively.
The artwork for this card comes from the World of Warcraft Trading Card Game "Crown of the Heavens" series, for the card King Bagurgle, Terror of the Tides.
A sponge can be seen impaled on the spike of the big murloc's spear. A hermit crab can also be found inside the shell sitting on the big murloc's left shoulder. Finally, a pink sea star with "green pants" can be seen on the shell of the big murloc's right ankle. These are references to the characters Spongebob, Patrick and Eugene Krabs from the show Spongebob Squarepants.
Gallery
[
]
Patch changes
[
]
References
[
]