Hooded Acolyte
Hooded Acolyte
| | |
| --- | --- |
| Set: | Whispers of the Old Gods |
| Type: | Minion |
| Class: | Priest |
| Rarity: | Common |
| Cost: | 4 |
| Attack: | 3 |
| Health: | 6 |
| Abilities: | Increment attribute |
| Tags: | C'Thun-related, Healing-related, Triggered effect |
| Artist: | Adam Byrne |
Whenever a character is healed, give your C'Thun +1/+1 (Wherever it is).
Wait, what kind of acolyte doesn't wear a hood?
Hooded Acolyte is a common priest minion card, from the Whispers of the Old Gods set.
Hooded Acolyte can be obtained through Whispers of the Old Gods card packs, or through crafting.
| Card | Crafting cost | Disenchanting |
| --- | --- | --- |
| Hooded Acolyte | 40 | 5 |
| Golden Hooded Acolyte | 400 | 50 |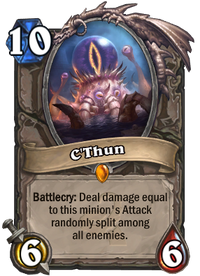 Healing undamaged characters will not activate this minion's effect; Health must be restored.
With decent stats for its cost, this minion can grant multiple buffs to C'Thun if not checked by the opponent, and its reasonably beefy 3/6 will allow it to trade into minions and survive. Works especially well with any source of multi target healing, as the effect triggers per character, including Holy Nova and Circle of Healing. Ideally, play this minion in the same turn when you can pull off a healing effect, as this minion will likely pose a significant target for your opponent's removal.
Note that this minion's effect triggers regardless of which player triggers a healing effect, including your opponent's Truesilver Champion, Healing Totem, etc.
Summon

Do you know the secret handshake?
Attack

Outsider!
This minion is an acolyte in one of C'Thun's cults.