Hog Rancher
Hog Rancher
| | |
| --- | --- |
| Set: | Forged in the Barrens |
| Type: | Minion |
| Rarity: | Common |
| Cost: | 3 |
| Attack: | 3 |
| Health: | 2 |
| Abilities: | Battlecry, Summon |
| Tags: | Beast-generating, Rush-generating |
| Artist: | Sean McNally |
Battlecry: Summon a 2/1 Hog with Rush.
Suspiciously close to a Quilboar village.
Hog Rancher is a common neutral minion card, from the Forged in the Barrens set.
Regular Hog Rancher can be obtained through Forged in the Barrens card packs, through crafting, or as an Arena reward.
| Card | Crafting cost | Disenchanting |
| --- | --- | --- |
| Hog Rancher | 40 | 5 |
Two copies of golden Hog Rancher are obtained by reaching level 8 in the Forged in the Barrens' Rewards Track. Golden Hog Rancher is uncraftable and cannot be crafted or disenchanted.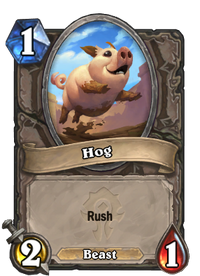 Please add any available information to this section.
Summon