Roblox: DeepWoken - The Loop
Play Sound
Hezrul Bloodmark
67656 • BOM_01_HezrulBloodmark_002hb
The Kolkar clan loathes the Horde and will not tolerate any incursions into its domain.
Boolean tags
HIDE_WATERMARK
Wiki tags
[[]]

It is a part of limited content and does not appear in any other
game modes
.
Hezrul Bloodmark is the second boss in Rokara's Book of Mercenaries chapter.
Hero Power
[
]
Summoned minions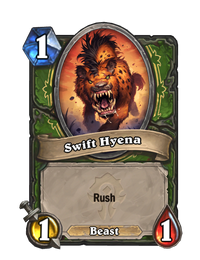 Player's hero
[
]
Special cards
[
]
Decks
[
]
The below classes are listed purely for reference, and have no effect on the boss' use of the cards during the battle.
Notes
[
]
The player always gets Stonetusk Boar, Horde Armorsmith, Kor'kron Elite on mulligan.

These cards can be replaced with Stonemaul Anchorman, Battle Rage, and a random card. The replacement takes place from left to right (i.e., if the player replaced one card, he will receive Stonemaul Anchorman regardless of whether Stonetusk Boar or Kor'kron Elite was replaced).

The player starts with

Guff

on the board.
Strategy
[
]

Please add any available information to this section.
Dialogue
[
]
Rokara

Bru'kan
Introduction
Emote Response
Hero Power
Idle
Turn 2
Turn 3
Turn 5
Turn 7
Death
Defeat
Lore
[
]

This section uses content from Wowpedia.
Hezrul Bloodmark is a centaur found in the Northern Barrens. He is the leader of the Kolkar forces in the Barrens and patrols the Lushwater Oasis with two guards. Regthar Deathgate would like Hezrul's head for his collection.
Gallery
[
]
Patch changes
[
]
Book of Mercenaries
Rokara (Warrior)

Heroes
Bosses

50px|link=

[[|Hezrul Bloodmark]]

50px|link=

[[|Plaguemaw the Rotting]]

50px|link=

[[|General Twinbraid]]

50px|link=

[[|Feegly the Exiled]]

Xyrella (Priest)

Heroes

Xyrella and Tavish

Bosses

50px|link=

[[|Kargal Battlescar]]

50px|link=

[[|Serena Bloodfeather]]

50px|link=

[[|Sludge Beast]]

50px|link=

[[|Engineer Whirleygig]]

50px|link=

[[|Trixie Sprockets]]

50px|link=

[[|Tinkerer Sniggles]]

50px|link=

[[|Garona Halforcen]]

Guff (Druid)

Heroes
Bosses

50px|link=

[[|An Angry Treant]]

50px|link=

[[|Barak Kodobane]]

50px|link=

[[|Cannonmaster Smythe]]

50px|link=

[[|A Party of Adventurers]]

50px|link=

[[|Lady Anacondra]]

50px|link=

[[|Void Naralex]]

Kurtrus (Demon Hunter)

Heroes
Bosses

50px|link=

[[|Aranna Starseeker]]

50px|link=

[[|Sarilus Foulborne]]

50px|link=

[[|Neeru Fireblade]]

50px|link=

[[|Tamsin Roame]]

Tamsin (Warlock)

Heroes
Bosses

50px|link=

[[|Bolvar Fordragon]]

50px|link=

[[|Cornelius Roame]]

Cariel (Paladin)

Heroes
Bosses

50px|link=

[[|Tamsin Roame]]

50px|link=

[[|Kurtrus Ashfallen]]

50px|link=

[[|Cornelius Roame]]

50px|link=

[[|A Twisted Monstrosity]]

Scabbs (Rogue)