Hesutu Stonewind
Regular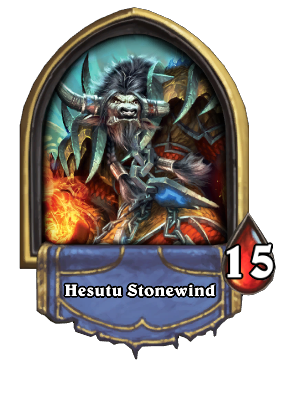 Gold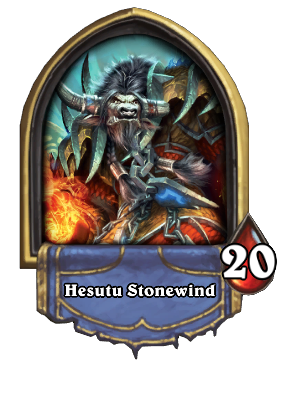 Flavor text
This shaman has a way of whipping his minions into a frenzy.
External links
Hesutu Stonewind is a boss that can be encountered in The Dalaran Heist adventure.
Hero Power
[
]
| Normal | Heroic |
| --- | --- |
| | |
Decks
[
]
The below classes are listed purely for reference, and have no effect on the boss' use of the cards during the battle.
Strategy
[
]
Hesutu Stonewind's hero power will become problematic very fast, kill any minion affected by his Hero Power to have a chance at winning.
Dialogue
[
]
Introduction
Hesutu Stonewind

You do not belong here.
Emote Response
Hesutu Stonewind

I cannot hear you over the power of the winds!
Hero Power
Hesutu Stonewind

Earthmother, grant us strength.
Feel the fury of the winds!
The Earthmother guides.
The ferocious winds aid us!
Idle
Hesutu Stonewind

Earthmother speaks to me... wait, no, that's someone else.
I must be patient.
It is not wise to disturb the winds. They have a way of pushing back.
Hesutu Stonewind

The winds howl! They will crush you!
Player's cards
Hesutu Stonewind

Windfury effect

You do not deserve her strength.
<humph>

Totem

This false power must be destroyed.

Shaman spell

The elements serve ME.

V-07-TR-0N

How has a machine mastered the winds?!
Death
Hesutu Stonewind

(gasp)
Defeat
Hesutu Stonewind

Like dust in the wind.
Lore
[
]
Hesutu Stonewind is unique to Hearthstone.
Gallery
[
]
Patch changes
[
]
The Dalaran Heist
Heroes
Chapter 1: Dalaran Bank

| | |
| --- | --- |
| Level 1 | |
| Level 2 | |
| Level 3 | |
| Level 4 | |
| Level 5 | |
| Level 6 | |
| Level 7 | |
| Level 8 | |

Chapter 2: The Violet Hold

| | |
| --- | --- |
| Level 1 | |
| Level 2 | |
| Level 3 | |
| Level 4 | |
| Level 5 | |
| Level 6 | |
| Level 7 | |
| Level 8 | |

Chapter 3: Streets of Dalaran

| | |
| --- | --- |
| Level 1 | |
| Level 2 | |
| Level 3 | |
| Level 4 | |
| Level 5 | |
| Level 6 | |
| Level 7 | |
| Level 8 | |

Chapter 4: The Underbelly

| | |
| --- | --- |
| Level 1 | |
| Level 2 | |
| Level 3 | |
| Level 4 | |
| Level 5 | |
| Level 6 | |
| Level 7 | |
| Level 8 | |

Chapter 5: Kirin Tor Citadel

| | |
| --- | --- |
| Level 1 | |
| Level 2 | |
| Level 3 | |
| Level 4 | |
| Level 5 | |
| Level 6 | |
| Level 7 | |
| Level 8 | |
| Level 9 | |
| Level 10 | |
| Level 11 | |
| Level 12 | |

Tavern