GTA: The Criminal Enterprises - The Loop
Play Sound
Hero skin is a type of cosmetics in Hearthstone. Each hero skin belongs to a specific class, and provides an alternative to the default hero for that class. Hero skins are purely cosmetic and do not affect gameplay in any way, making use of the same Hero Power and class cards as the default hero for that class.[1][2]
Hero skins are currently available for all ten classes with more planned for the future.[3]
Hero skins can be obtained through various means, from purchasing them with real money or gold, to participating in special promotions. Some hero skins (mostly alternate heroes) come with corresponding card backs.
Functionality
[
]
There are two main types of hero skins: Alternate hero and alternate portrait.

Like the game's 10 original heroes, most alternate heroes are major characters from Warcraft lore (although some are original), and all come with their own portrait and emotes. In addition, alternate heroes bring special art for the 'hero tray' (the panelled area near the portrait), unique animations when using their Hero Power, and "entering the game" animations.[2]
Alternate portraits are different versions based on the default heroes. Most of them tend to have only unique emotes and no special tray, entrance animations or Hero Power animations.

Hero skins are permanent additions to the game; once purchased or earned, a hero will not be removed at a later date.[4] Some skins are available for purchase or reward only through time-limited promotions, but once a hero is unlocked, it can be used at any time.
Hero skins can be used in Constructed, Arena, and Tavern Brawls. Some Solo Adventures may also allow the players to use their hero skins.
Once purchased, players can select hero skins through the collection manager.[5] Similar to card backs, players can choose a default "favorite hero", as well as assigning a specific class-appropriate hero to each custom deck. Favorite heroes for each class will be used whenever playing a deck of that class, including Arena, unless another hero has been specifically assigned for that deck.playing a deck of that class, including Arena, unless another hero has been specifically assigned for that deck.[6][7]
Wins with hero skins counts toward the wins count for that class.[8]
All hero skins are all animated, regardless of whether the golden hero for that class has been unlocked.[9]
There is no option for non-golden or non-animated versions of hero skins.[10]
Most hero skins have their own unique emotes, using the standard types (e.g., "Greetings", "Wow", "Well Played"). They may also have special, unique emotes; for example,

Nemsy Necrofizzle

has a special emote when playing

Renounce Darkness

.
Hero skins do not bring additional deck slots or battlefields.[11][12]
While Hero Powers will produce special animations when used by alternate heroes, there are no visual changes to class cards.[13][14]
Like all in-game purchases, purchasing a hero skin will only make it available for the region in which it was purchased.[15]
There is no option for players to 'gift' hero skins to their friends.[16]
How to get
[
]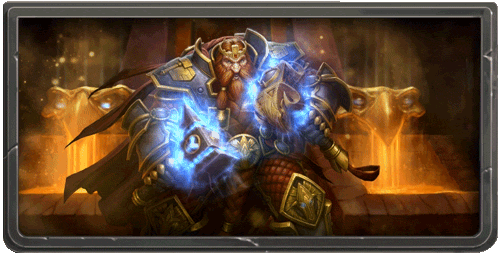 Different hero skins can be unlocked through different means. Here are all the known possible ways of obtaining a hero skin, as of Patch 22.0.2.128654:
Hero skins
[
]
As of 24.0.0.145077, there are a total of 229 hero skins in Hearthstone.
For a full art gallery of these cards, see Hero skin/Gallery.
Available
[
]
There are currently 58 hero skins available for obtaining.
Available skins
Swipe left or right to see the cards.
[

]
There are currently 160 hero skins unavailable for obtaining. However, they will be re-sold again in the future.
Unavailable skins
Swipe left or right to see the cards.
Unknown
[
]
These skins are detected from Hearthstone database, but haven't been manually categorized yet.
Unknown skins
Swipe left or right to see the cards.
History
[
]
In January 2014 it was stated that future developments might see alternate heroes, the first type of hero skin to be released, for a given class.[17] It was suggested that alternate heroes may be available for real money, gold, or a mixture of both.[18] In November 2014 it was stated that the developers were "excited" about the feature, but were not yet ready to make any announcements.[19]
In June 2015 an Innkeeper's Journal blog was released apparently hinting at the introduction of a new warrior hero. An image in the blog depicted the silhouette of a figure, with the warrior class icon at the bottom, while the blog itself discussed the arrival of an "imposing, broad-shouldered figure", causing quite a stir in the tavern. A tweet from the official Hearthstone account stated "What this character lacks in height, he makes up for in ferocity! Can you guess his identity?"
Alternate heroes were officially revealed June 4, 2015, along with
Magni Bronzebeard, the first alternate hero to be revealed.
Alleria Windrunner and
Medivh were next, teased on June 10, and revealed June 11 and 12. The feature went live with Patch 2.7.0.9166 on June 15, 2015, with Magni, Alleria and Medivh available for purchase.
Starting with The Boomsday Project, each expansion pre-order Mega bundle always contains an alternate hero. The first alternate hero to be released was
Mecha-Jaraxxus.
On September 26, 2019, it was announced that new 9 alternate portraits would be released, which could be obtained by winning 1000 games as respective classes.[20] This announcement marked the introduction of alternate portraits. At first, these portraits would use the same emotes from their default heroes.
On September 15, 2020, new alternate portraits continued to be released alongside Book of Heroes content. However, these alternate portraits were available in bundles instead of claiming through other ways. By the time
Scholar Jaina and
Horseman Uther were just released, they were heavily criticized for having no special emotes nor animations at all and were claimed for not being worth of money. After receiving feedbacks, the next alternate portrait,
Warsong Rexxar, was released with unique 6 standard emotes. But even then, the next portraits were intially having no unique emotes either. After Patch 20.0.0.77662 was deployed, all of alternate portraits, except
Felheart Gul'dan which was fixed later, now have unique emotes.
Starting from March 2021, Blizzard starts to re-sell older hero skins with both real money or gold for a limited time. The first skin to receive this treatment was
The Thunder King.
Ever since Year of the Gryphon, Blizzard pushes to release new hero skins much more regularly, making the total number of hero skins drastically increased comparing to older years. Moreover, some hero skins are starting to be available again with gold forever, which can be claimed by going to Collection manager with the button to purchase directly.
Trivia
[
]
Alternate heroes use the same Hero Powers and Hero Power art as the standard heroes for that class. Ben Brode states that this is in order to "keep some measure of instant recognition", with alternate heroes already making it harder for players to tell what class they are playing against.[21]
Patch changes
[
]
Patch 24.0.0.145077 (2022-07-26): Multiple hero skins can now be favorited, causing a random one to be picked each game. An option to cycle randomly between all owned hero portraits for a class was also added.
References
[
]
External links
[
]