No Man's Sky Update - The Loop
Play Sound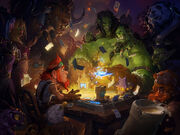 The Hearthstone Soundtrack was released digitally on March 11, 2014. It is 00:23:29 in total length. It used to be available as a free download on Blizzard's official music site.
Description
[
]
It's the perfect time to gather by the fire with your friends, so pull up a chair and break out the cards. Let's have a game while the innkeeper fetches another round. Oh, and could someone get that gnome to stop dancing on the tabletop while we play? He keeps kicking over the cards.
This lively soundtrack embodies the many moods of the Hearthstone: Heroes of Warcraft online card game: attacks, surprises, and sudden reversals of fortune abound. You're invited to join in the fun with this lighthearted musical journey full of warmth and laughter.
Track list
[
]
| # | Title | Time |
| --- | --- | --- |
| 1 | Heroes of Warcraft | 0:42 |
| 2 | Pull up a Chair | 2:19 |
| 3 | Tricks of the Trade | 4:10 |
| 4 | Two Rogues, One Mark | 3:14 |
| 5 | The Arena Awaits | 2:00 |
| 6 | Playing with a Full Deck | 3:03 |
| 7 | Awash in Ale, but Nary a mug | 4:10 |
| 8 | One Last Chance | 0:42 |
| 9 | Tabletop Battles | 3:09 |
Credits
[
]
Composition: Peter McConnell
Additional Music By: Jason Hayes, Glenn Stafford
Live Sessions Produced By: Edo Guidotti
Sound Design By: Andy Brock
Album Produced By: Russell Brower
Production: Rhonda Cox, Dennis Crabtree, Caroline Hernandez, Keith Landes
Special Thanks: Chris Allsopp, Arlen Espinoza Asher, Ben Brode, Debra and Harold Cox, Jennifer Crabtree, Eric Dodds, Shelly Guidotti, Tiffany, Bronte, Kate, and Taylor Hayes, Greg, Andrea, and Amelia Landes, Amy, Alice, and Eben McConnell, Nicole Robitshek, SEA Flute
See also
[
]
References
[
]