Raise a Floppa - The Loop
Play Sound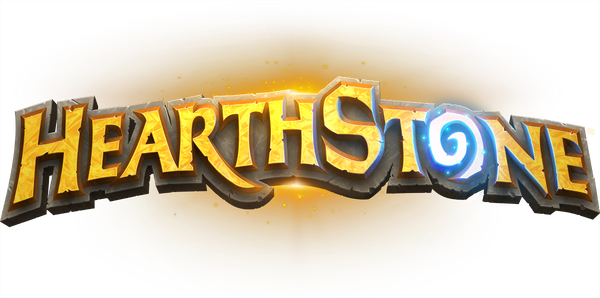 Hearthstone (formerly known as Hearthstone: Heroes of Warcraft[1][2]) is a free-to-play digital collectible card game from Blizzard Entertainment. It was first announced in a presentation by Rob Pardo at the Penny Arcade Expo in March 2013,[3] and began its closed beta phase in the Americas region on August 26th, and in the Europe region on September 4th. The game entered its open beta phase on January 21st 2014, and was fully released on March 11th 2014.[4]
Hearthstone is currently available on Mac OS X and Microsoft Windows operating systems, as well as on iOS and Android phones, Windows 8 devices, Android tablets, and iPad, supporting iPad Air, iPad 4th generation, iPad 3rd generation, iPad 2, iPad mini, and iPad mini with Retina display.[5][6]
In April 2016, it was announced that the game had surpassed 50 million registered players.[7]
Gameplay
[
]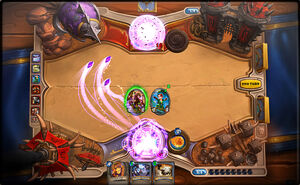 Main article: Gameplay
Hearthstone is a free-to-play card game set in the Warcraft universe. Players can compete against other players or AI opponents in 1-on-1 combat, battling to destroy the enemy hero before they are themselves defeated. Players can achieve this using a variety of spells and minions - creatures summoned onto the battlefield to fight on their behalf - as well as equipping weapons to dive directly into the fray. Hearthstone was designed to be a quick, fun and accessible game, but also offers significant depth, strategy and complexity for more serious players.
The game currently features 1 collectible cards, and players can build and explore their card collections through an in-game collection browser. Players can gain new cards by purchasing booster packs, using either real money or gold, an in-game currency earned from completing quests. The game's cards, characters and locations draw from the deep history of the Warcraft universe, creating a game rich with detail and humour. Players can choose to play as any of nine different heroes from the series' history, each representing a different class, complete with its own unique minions, spells and weapons, as well as a signature Hero Power all its own. Battle itself takes place on one of a number of battlefields; interactive game boards depicting well-known locations from Azeroth, complete with numerous hidden bonus features for players to find.
For an in-depth exploration of the game's features, see Gameplay.
Platforms
[
]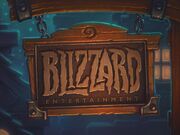 Hearthstone is playable cross-platform. Players can play against any opponent in their region regardless of the device or platform used by each.
Basic gameplay is identical on all platforms, although there are numerous differences to the interface to address the needs of mobile and touch-screen devices. Other cosmetic differences include the use of a different starting screen (see right).
The only known difference in the game itself is one quest which is only available on mobile devices, offering a single card pack in reward for completing a game on that platform. Differences between platform releases of the game have not been stated or commented upon by Blizzard.
In development
[
]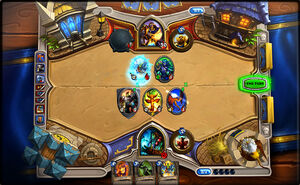 Main article: In development
This article lists features which are currently in development for Hearthstone; are planned but are not yet in development; have been confirmed as possibilities for the future; and which have been specifically stated as not planned for the game.
Patches
[
]
Main article: Patch
To catch up with the latest changes to the game, see our full list of patches.
The Hearthstone universe

[

]
Hearthstone is set in the Warcraft universe, with the vast majority of characters, spells, weapons and locations drawn from World of Warcraft or earlier games. Wherever possible, the developers go to great trouble to recreate the feel and personality of cards' Warcraft counterparts.
However, Hearthstone is not strictly tied to the lore of these games. In many cases Hearthstone has introduced new characters, spells and weapons, as well as reimagining existing ones.[8] The game of Hearthstone itself also deviates from existing lore in several respects, and is steadily introducing new characters and events, which are not yet confirmed as existing in the main Warcraft universe. As the game continues to expand, an ever growing body of lore emerges that is clearly and uniquely Hearthstone.
Design and development
[
]
Main article: Design and development of Hearthstone
See also: Hearthstone timeline
Staff
[
]
See also: Category:Blizzard employees
Hearthstone was developed by Team 5, originally a "small and nimble" group created specifically for the task. Team 5 handles all ongoing game design, with the assistance of the far larger roster of support team staff. The team is headed up by Lead Designer Ben Brode and Game Director Eric Dodds.
Community support for Hearthstone is provided by a small team of Community Managers, including Keganbe, Aratil, Daxxarri, Avarius, Molly, JesseHill and Community Team Leader Zeriyah.
Statistics
[
]
Player numbers
[
]
Matches
[
]
As of August 2014:
Arena
[
]
Main article: Arena#2016 statistics
An official infographic states the following stats for January-September 2016:
Number of hours spent in Arena games: 157,872,547 hours
Number of turns: 6.31 billion turns
Miscellaneous
[
]
In 2016:
In August/November 2014:
Surveys
[
]
In a survey taken on Reddit in late 2014, the following words were used most frequently by players to describe what they liked and disliked in Hearthstone.[22] Note that the latter list is far shorter, because players focused far more heavily on a few words in their 'dislike' replies. See the images to the right for the full wordclouds.
Liked
Fun, play, easy, quick, simple, cards, RNG, Arena
Disliked
Trivia
[
]
Hearthstone is played by many developers within Blizzard, on teams responsible for each of the company's different franchises. An email from then StarCraft II Game Director Dustin Browder light-heartedly complained that his team were too busy playing Hearthstone to work on StarCraft.[23]
Blizzard's first ever employee-only Hearthstone tournament was won by Luis Barriga, lead game designer for World of Warcraft.[24]
Videos
[
]
Media
[
]
Hearthstone wallpapers, artwork and soundtracks can all be found in the media section of the official site.
Class and Innkeeper Twitter icons and Facebook cover photos can be found here.
Gallery
[
]
Key art
[
]
References
[
]
External links
[
]