No Man's Sky Update - The Loop
Play Sound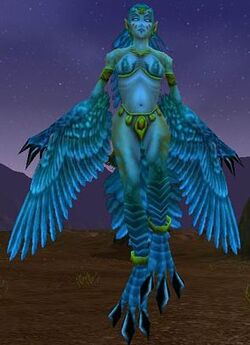 This page lists cards with card art depicting harpies.
Lore
[
]

This section uses content from Wowpedia.
Harpies resemble a cross between a night elf female and a hunting bird, with long talons for feet and large graceful wings for arms. Despite the similarity, they have little in common with the elves. Harpies employ nature-based magic like night elves, but they destroy the environments in which they settle, killing every creature they encounter and despoiling the land to build nests noted for their noxious odor. Harpies originally hail from the Stonetalon Mountains, but have since spread out across Kalimdor and Northrend.
The cackling bird-women are capable of powerful elemental storm magic. Little is known about the source of their power, as they attack invaders on sight, few can discern any meaning behind their shrill cries, and none can tolerate the smell of their nests. They only get more beautiful as they age.
Harpies
[
]
Swipe left or right to see the cards.
Harpy art
[
]
Swipe left or right to see the cards.
Races native to Azeroth

Elves
Titan-forged
Nature
Other

Races alien to Azeroth

Void
Demons
Shadowlands
Other

Undead
Constructs
Miscellaneous