World of Warcraft: Dragonflight - The Loop
Play Sound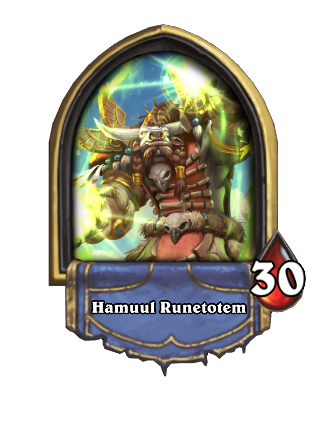 Hamuul Runetotem is a hero skin for the druid class.
Lore

This section uses content from Wowpedia.
Hamuul Runetotem is the Archdruid of Thunder Bluff and a venerated leader of the tauren people. He is the highest-ranked tauren in the Cenarion Circle. As many of his people do, Hamuul believes very much in the balance between nature and the races of Azeroth. Hamuul was a childhood friend and fierce supporter of High Chieftain

Cairne Bloodhoof

, and teaches the ways of druidism to his honored brethren. After Cairne was murdered by

Magatha Grimtotem

, Hamuul continued his role as advisor to Cairne's son Baine, the new High Chieftain, as well as teaching young druids.
How to get
Hamuul Runetotem is currently unavailable for obtaining.
Previous availability
Hamuul Runetotem could be obtained through Forged in the Barrens Pre-order Mega Bundle, available for purchase from February 20 to March 30, 2021.

USD
EUR
GBP
AUD
$79.99
€79.99
£69.99
Functionality
Main article: Alternate heroes
Once unlocked and selected for use, Hamuul Runetotem replaces Malfurion Stormrage whenever the player uses a Druid deck, as well as:
Comes with own portrait
Has custom emotes
Has custom tray
Flavor text
When viewed in the Collection, Hamuul Runetotem has the following flavor text:
Taught by Malfurion himself, Hamuul proves that night elves and tauren can get along well if they are both good natured.
Sounds
Type
Transcript
Trigger:

Force of Nature

Link▶️I have learned from the best…
Trigger:

Gift of the Wild

Link▶️Be strong, my friends!
Trigger:

Lunar Visions

Link▶️Commune with the wild…
Trigger:

Moonglade Portal

Link▶️Wisdom from Moonglade!
Trigger:

Mulch

Link▶️All return to the earth…
Trigger:

Wispering Woods

Link▶️The forest speaks to me…
Attack [1]
Death [1]
Concede
Error: Too many minions
Error: Generic
Error: Hand already full
Error: Hero already attacked
Error: Minion exhausted
Error: Not enough mana
Error: Need a weapon
Error: Can't play that card
Error: Can't target Stealthed minion
Error: Minion not ready
Error: Not a valid target
Error: Must attack Taunt minion
Emote: Greetings [Fire Festival]
Emote: Greetings
Emote: Greetings [Happy Halloween]
Emote: Greetings [Holidays]
Emote: Greetings [Happy New Year]
Emote: Greetings [Lunar New Year]
Unused: Greetings [Happy Noblegarden]
Almost out of cards
Emote: Greetings [Mirror]
Start [Mirror]
Out of cards
Emote: Oops
Unused: Greetings [Pirate Day]
Selection in Choose Your Hero
Unused: Sorry
Start
Emote: Thanks
Thinking
Thinking
Thinking
Emote: Threaten
Running out of time
Emote: Wow
Emote: Well Played
Start [Malfurion Stormrage]
Link▶️It pleases me to see you, shan'do.
Gallery
Patch changes
References
[
]