Hadidjah Chamberlin
Hadidjah Chamberlin
| | |
| --- | --- |
| Set: | CREDITS |
| Type: | Minion |
| Rarity: | Legendary |
| Cost: | 4 |
| Attack: | 1 |
| Health: | 1 |
| Artist: | Howard Lyon |
Stealth. At the beginning of each turn, create a random effect. It doesn't actually do anything.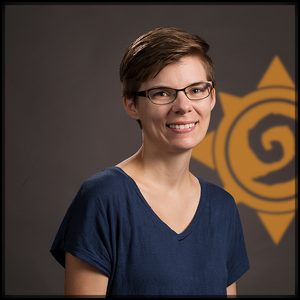 Hadidjah Chamberlin is a Blizzard employee who formerly worked as a FX artist on Hearthstone.
They joined Blizzard in January 2016.[1] Previous positions include environmental and 3D art work at a variety of companies, including Microsoft.[1] In July 2020, Chamberlin left the Hearthstone team to work on another Blizzard project.[2]
Hi frens you're cute & I'll miss you
Conor thanks for always bulls***ing with me
Sarah you're the most charming person I've ever met
Alec you're so kind
Also Adam and Nick I promised I'd sneak you into an effect, I GOTCHU MY DUDES