World of Warcraft: Dragonflight - The Loop
Play Sound
Guff Murtotem is a hero skin for the druid class.
How to get
Guff Murtotem is currently unavailable for obtaining.
Flavor text
When viewed in the Collection, Guff Murtotem has the following flavor text:
A good druid can take on any form. A great druid looks adorable doing it. Acquired by purchasing the Guff Murtotem bundle.
Sounds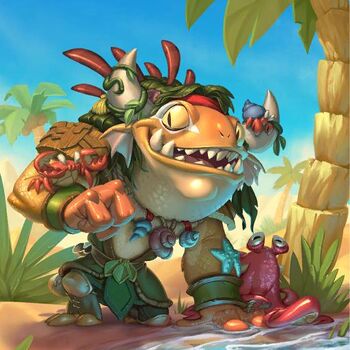 | Type | Transcript |
| --- | --- |
| Attack [1] | Link▶️Murloc hug! |
| Death [1] | Link▶️<_Death_> |
| Concede | Link▶️Time for a swim! |
| | Link▶️Too many friends already! |
| | Link▶️Finpossible! |
| | Link▶️Uhh…kinda both, I think? |
| Emote: Greetings | Link▶️Are you fish or frog? |
| Emote: Greetings [Holidays] | Link▶️Let us celebrate today! |
| Thinking | Link▶️<_Fishy snores_> |
| Almost out of cards | Link▶️One card left -- I hope it is tasty. |
| Out of cards | Link▶️Hey, where'd my lunch go? |
| Emote: Oops | Link▶️Oh, fishsticks. |
| Selection in Choose Your Hero | Link▶️I may be a murloc, but we will always be friends! |
| | Link▶️And we love to eat! |
| Start | Link▶️Murlocs are friends to all. |
| Emote: Thanks | Link▶️My wise uncle once said, <_Bubble Noises_>! |
| Emote: Threaten | Link▶️Go sleep with the fishes! It is cozy down there. |
| Running out of time | Link▶️That fishing line is sizzling! |
| Emote: Well Played | Link▶️Hehe! <_Woohoo Mrgls_> |
| Emote: Wow | Link▶️<_Amazed mrgls into a heh heh_> |
Patch changes