Guess the Weight
Guess the Weight
Draw a card. Guess if your next card costs more or less to draw it.
"And then at the last second, I'll shapeshift into cat form!"
See this card on PlayHearthstone
Guess the Weight is an epic druid spell card, from the Madness at the Darkmoon Faire set.
Guess the Weight can be obtained through Madness at the Darkmoon Faire card packs, through crafting, or as an Arena reward. Regular Guess the Weight can also be obtained through the Highest Rank Bonus chest at the end of a Ranked season.
| Card | Crafting cost | Disenchanting |
| --- | --- | --- |
| Guess the Weight | 400 | 100 |
| Golden Guess the Weight | 1600 | 400 |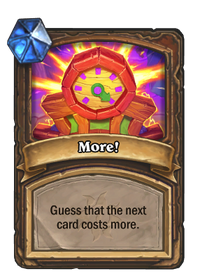 In the event that the card guessed costs the same as the drawn card, the guessed card will not be drawn.
An unusual, though potentially powerful, card draw effect, that can fit in several different Druid archetypes. Two mana draw two cards is obviously strong, even if the "guessing" condition attached to this card reduces the consistency of it. There are, however, ways to increase your odds of guessing correctly ; in general, this card rewards knowing your deck's Mana curve, and favors decks that lean in certain directions (so, if a deck contains more low-drops than high-drops, then a draw of, say, a four-mana card would make the odds of drawing lower more likely). It is also possible to wait a little before casting this, which could make guessing easier as more of the deck would have been drawn out.
Note that, even without being able to draw the second card, you still get information on what that second card is, which can enable you to plan out your next turn accordingly.
There is 1 achievement related to Guess the Weight.