Raise a Floppa - The Loop
Play Sound
For other appearances of Uther, see Uther Lightbringer (disambiguation).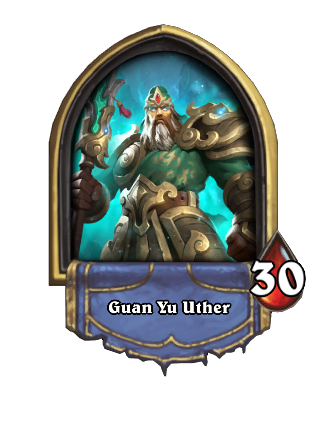 Guan Yu Uther is a hero skin for the paladin class.
How to get
Guan Yu Uther is currently unavailable for obtaining.
Previous availability
Functionality
Main article: Alternate heroes
Once unlocked and selected for use, Guan Yu Uther replaces Uther Lightbringer whenever the player uses a Paladin deck, as well as:
Comes with own portrait
Has custom emotes
Flavor text
When viewed in the Collection, Guan Yu Uther has the following flavor text:
A peerless champion will always fight for what he believes in. After watching him, you might believe it too! Obtained by purchasing the Guan Yu Uther Bundle or the Three Kingdoms Bundle.
Sounds
| Type | Transcript |
| --- | --- |
| Attack [1] | Link▶️For valor! |
| Death [1] | Link▶️ |
| Concede | Link▶️The victory is yours. |
| Error: Too many minions | Link▶️I have too many minions. |
| Error: Generic | Link▶️I can't do that. |
| Error: Hand already full | Link▶️My hand is too full! |
| Error: Hero already attacked | Link▶️I already attacked. |
| Error: Minion not ready | Link▶️Give that minion a turn to get ready. |
| Error: Minion exhausted | Link▶️That minion already attacked. |
| Error: Not enough mana | Link▶️I don't have enough Mana. |
| Error: Need a weapon | Link▶️I need a weapon. |
| Error: Can't target Stealthed minion | Link▶️I can't play that. |
| Error: Can't play that card | Link▶️I can't target Stealthed minions. |
| Error: Not a valid target | Link▶️That's not a valid target. |
| Error: Must attack Taunt minion | Link▶️A minion with Taunt is in the way. |
| Emote: Greetings [Lunar New Year] | Link▶️Happy New Year, Champion! |
| Emote: Greetings [Fire Festival] | Link▶️Happy Midsummer Fire Festival! |
| Emote: Greetings [Happy Halloween] | Link▶️Happy Hallow's End, Champion! |
| Almost out of cards | Link▶️I'm almost out of cards! |
| Unused: Greetings [Happy Noblegarden] | Link▶️Happy Noblegarden, Champion! |
| Out of cards | Link▶️I'm out of cards! |
| Unused: Greetings [Pirate Day] | Link▶️Avast, ya scurvy scallywags! |
| Unused: Sorry | Link▶️I am sorry. |
| | Link▶️Hmmm... |
| | Link▶️I wonder... |
| | Link▶️Let me think... |
| Running out of time | Link▶️I must move quickly! |
| Emote: Greetings [Holidays] | Link▶️Happy Feast of Winter Veil, champion! |
| Emote: Greetings [Happy New Year] | Link▶️Happy New Year, Champion! |
| Emote: Greetings | Link▶️Go with honor, friend. |
| Emote: Greetings [Mirror] | Link▶️That is the only way. |
| Start [Mirror] | Link▶️That is the only way forward. |
| Emote: Oops | Link▶️How ridiculous! |
| Selection in Choose Your Hero | Link▶️With honor! |
| Start | Link▶️Justice will decide this! |
| Emote: Thanks | Link▶️I am grateful to you. |
| Emote: Threaten | Link▶️I fight for what is right. Can you say the same? |
| Emote: Well Played | Link▶️You fought with dignity. |
| Emote: Wow | Link▶️Glorious! |
Patch changes
References
[
]