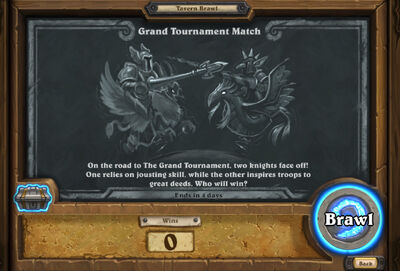 "On the road to The Grand Tournament, two knights face off! One relies on jousting skill, while the other inspires troops to great deeds. Who will win?"
Grand Tournament Match is a Tavern Brawl. It debuted on August 19, 2015. For exact times, see the schedule.
Heralding the coming release of The Grand Tournament, this Brawl was designed to showcase its two new mechanics - Inspire and Joust - and allowed players access to cards from the expansion before they were otherwise available.
History
[
]
| Tavern Brawl | Start | End |
| --- | --- | --- |
| 10 | August 19, 2015 | August 24, 2015 |
Overview
[
]
The Grand Tournament Match sees players doing battle as two opposing heroes: Medivh and Alleria. Upon queuing, players will be randomly cast in one of these roles, with access to a special pre-made deck.
Medivh's deck has a strong Inspire theme, while Alleria's features numerous Joust minions.
Decks
[
]
Alleria
Medivh
Notes
[
]
Strategy
[
]

Please add any available information to this section.
Guides
External links
[
]
| | Tavern Brawls |
| --- | --- |
| Constructed | |
| Randomized | |
| Premade | |
| Brawliseum | |
| Cooperative | |
| Single-player | |
| Fireside Brawls | |