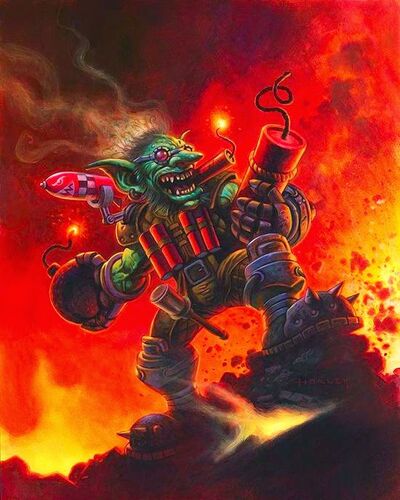 Goblins are small green humanoids known for their heavily commerce-oriented society, flexible morals, and surprisingly effective - if often fatally flawed - inventions. Goblins place personal profit above almost everything else in life, often including life itself - especially when that life is somebody else's. In Hearthstone, goblins are best known for their explosive and damage-dealing inventions.
The goblins and their inventions are featured in the Goblins vs Gnomes expansion.
Lore
[
]

This section uses content from Wowpedia.
The cunning goblins are small green creatures from the isle of Kezan. Their love of money, explosives, and technology leaves them to be a very dangerous race, both to their enemies and themselves. Most goblins have a neutral standpoint, preferring to sell their contraptions, knowledge and services to other races.
Goblins are small humanoids, crafty and shrewd, bearing an overwhelming interest in commerce and a strong curiosity about mechanical things. Goblin society is fragmented, defined chiefly by commerce and trade. The ultimate schemers and con artists, goblins are always in search of a better deal. Despite their seemingly chaotic natures, they exist in a fairly strict and straightforward hierarchy. Other races universally view goblins as inventors, merchants and, without exception, maniacs. Goblins value technology as a useful aspect of commerce. Some say that their advantage — and their curse — is to be the primary users of technology in a world governed by magic. While dwarves and gnomes share a similar gift, goblin technology is more far-reaching and sinister and makes a larger impact on the natural world.
In World of Warcraft, the goblins of Kezan are a playable Horde race.
"The wise and cunning goblins of Kezan have lived in relative peace for generations. Though some of their race sided with the marauding orcs during the Second War, most goblins remained neutral throughout the various conflicts of the Alliance and Horde. Ruled over by corrupt yet highly affluent Trade Princes, the goblins created a virtual paradise for themselves throughout the islands of the South Seas. Their fantastic feats of engineering and vast trade fleets helped make their island capital of Kezan one of the great technological wonders of the world. And now, as the elements themselves rise up in anger across the world, the goblins' mechanical paradise will be put to the test. For, very soon, fate will force them to choose sides in a conflict that will shape the very history of the world."
- World of Warcraft introduction
In Hearthstone

[

]
Goblins are known for their business acumen and their love of big explosions, and definitely not in that order. At the heart of Goblin engineering lies a deep, overwhelming desire to see things explode. Sure, ideally that means the enemy, but that's not what you'd call a strict requirement. As long as someone is getting blown up, then your average Goblin will be happy.[1]
Goblins are at the heart of the first Hearthstone expansion Goblins vs Gnomes, where they represent the Horde. They are contrasted with the mechanical and clockwork constructions of the gnomes, with goblins preferring volatile, explosive contraptions capable of producing powerful - if not entirely controllable - effects. Both races have their share of accidents, but those of the goblins tend to be somewhat louder and more violent in nature. While gnomish inventions are notorious for transforming test subjects into Chickens, miscalculations in goblin technology are more likely to result in the destruction of the surrounding area - goblin included - in a massive ball of fire. Goblins are however generally quite happy with this state of affairs, which doesn't help the other races to trust their inventions.
Themes of goblin card design are RNG and damage dealing, usually to unpredictable targets.
Quotes
[
]
"I sorta imagine a goblin's perfect day is, you wake up in the morning, you spend the morning building some awesome explosives ... and then blowing, you know, somebody up. And you know, if that's an enemy that's probably a plus, but, uh..." - Eric Dodds[2]
Goblins
[
]
Swipe left or right to see the cards.
Goblin art
[
]
Swipe left or right to see the cards.
References
[
]
Races native to Azeroth

Elves
Titan-forged
Nature
Other

Races alien to Azeroth

Undead
Constructs
Miscellaneous