Gladiator Valeera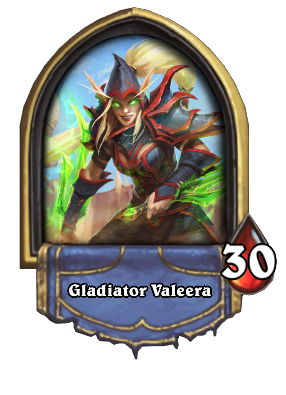 For other appearances of Valeera Sanguinar, see Valeera Sanguinar (disambiguation).
Gladiator Valeera is an alternate hero for the
Rogue class in Hearthstone: Heroes of Warcraft.
Gladiator Valeera can be purchased through Gladiator Valeera Bundle, which also contains 5 Rogue packs and is available starting from March 2nd, 2021 to March 16th, 2021.
| USD | EUR | GBP | AUD |
| --- | --- | --- | --- |
| $9.99 | €9.99 | £7.70 | $13.66 |
When viewed in the collection, Gladiator Valeera has the following flavor text:
Valeera wasn't a champion for very long, but that didn't stop her from reminding everyone of the fact often as possible. Obtained by purchasing the Gladiator Valeera Bundle.
Gladiator Valeera uses some of the same quotes as Valeera Sanguinar.Only different emotes are listed.
| Type | Emote |
| --- | --- |
| Thanks | I am in your debt. |
| Well played | You have some skills. |
| Greetings | It's a good day for a fight. |
| Mirror Greetings | No kidding. |
| Wow | It's... beautiful. |
| Oops | Whoops. |
| Threaten | This will be quick and easy. |
| Attack | Cold sharp steel... |
| Opening remark | Remember my blades! |
| Mirror start | I could hardly forget. |
| Selection in Arena | There's no one here who could actually challenge me. |