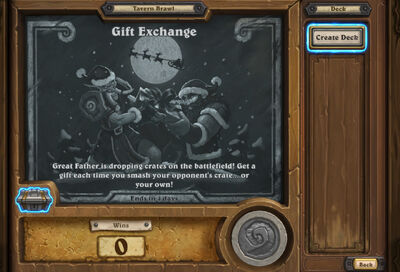 "Great Father is dropping crates on the battlefield! Get a gift each time you smash your opponent's crate... or your own!"
Gift Exchange is a Tavern Brawl. It debuted on December 14, 2015. For exact times, see the schedule.
The first ever festive Tavern Brawl, Gift Exchange celebrates Winter Veil, and is played exclusively on the special snow-laden Stormwind battlefield.
History
[
]
| Tavern Brawl | Start | End | Notes |
| --- | --- | --- | --- |
| 27 | December 16, 2015 | December 21, 2015 | Winter Veil Wreath card back reward |
| 86 | February 1, 2017 | February 6, 2017 | Winter Veil Wreath card back reward; otherwise, Classic pack |
| 185 | December 26, 2018 | December 31, 2018 | Winter Veil Treat card back reward; otherwise, Classic pack |
| 236 | December 18, 2019 | December 25, 2019 | Winter Veil Treat card back reward; otherwise, Classic pack |
| 288 | December 16, 2020 | December 23, 2020 | Winter Veil Treat card back reward; otherwise, Classic pack |
Changes
[
]
The original outing of this Brawl saw all players awarded with a special card back upon their first win. The Brawl's second appearance saw players who had already collected the card back awarded a Classic card pack instead.
The third appearance onward changed the reward to the Winter Veil Treat card back (which had previously been awarded by Returns & Exchanges).
Overview
[
]
This Winter Veil-themed Brawl sees players creating their own custom decks using any class. The Brawl revolves around Winter's Veil Gifts, special minions with a Deathrattle that grants the destroying player a Stolen Winter's Veil Gift. The board starts empty, but if at the start of their turn a player has no Winter's Veil Gifts on their side of the board, a fresh Winter's Veil Gift will be delivered by Greatfather Winter.
Stolen Winter's Veil Gift allows the player to Discover a card belonging to the class of the player who controlled the Winter's Veil Gift minion, with its mana cost reduced by 5. In addition, only spells and minions of 5 cost or higher can be Discovered. Players also have a chance to Discover the special card Hardpacked Snowballs.
Instead of a card pack, winning in this Tavern Brawl awards a special card back: Winter Veil Wreath (in 2015-2017), or the Winter Veil Treat (in 2018-2020). However, if the player already owns the awarded card back, the usual Classic card pack will be awarded instead.
Special cards
[
]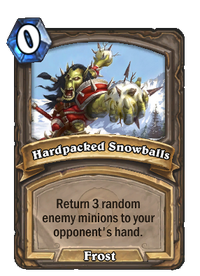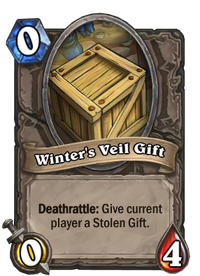 Notes
[
]
Possible cards
[
]
Following are the cards which have a chance to be Discovered by Stolen Winter's Veil Gift. As noted above, generated Gifts function differently from the standard Discover effect. Neutral cards are not listed for gifts generated by Lorewalker Cho, etc.
Neutral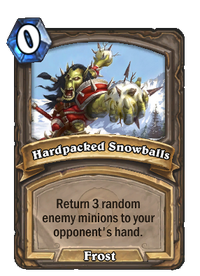 Rogue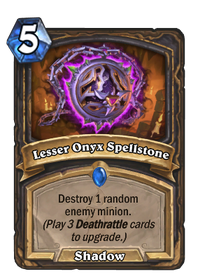 Strategy
[
]
The reduced mana cost and high mana range of the cards Discovered from the Winter's Veil Gifts makes them high priorities for attacking. Specifically, the high cost tends to increase the likelihood of drawing legendary and epic cards, including powerful options like Flamestrike and Archmage Antonidas - and at substantially reduced costs.
The limited pool of cards at 5 mana or above for each class also makes the options far more predictable. For a list of cards for each class, see Possible cards, above.
The choice of class can not only be used to give the player the maximum advantage in their deck and Hero Power, but also to give the opponent the worst choice of possible cards to Discover.
The fairly regular supply of 1-mana spells makes spell-related cards like Flamewaker highly effective.
Destroying your own Winter's Veil Gifts can be a very effective way of preventing the opponent from destroying it on their turn, since you will only receive a replacement at the start of your next turn. In addition, you will obtain a Stolen Winter's Veil Gift, with the class set to match your own hero. Another way to deny a Gift to your enemy is Silence on your own crate, leaving it to be destroyed with no gain for your opponent.
Since the Gift minions have 0 Attack, stat-switching effects like Reversing Switch can be used to destroy them immediately. This also makes them a good target for Health buffs.
Because the cards obtained from gifts are high-impact with a big discount, you might find success by crafting a deck dedicated toward destroying boxes on both sides of the board. There are many cards that are helpful toward this goal: Doomsayer will clear the board after a new box has been dropped, Power Overwhelming is one of the cheapest ways to destroy your own box, and Void Terror is guaranteed to be a 3/7 minion that instantly earns you a free gift.
Keep in mind that boxes on the battlefield will be Exhausted immediately after being dropped. Plan your buffs accordingly.
Warlock class is recommended for newbies this Tavern Brawl due to big amount of cheap basic/common removals/4 damage spells (e.g. Corruption and Soulfire) and cheap 4+ attack minions (Succubus/Wrathguard both cost 2 mana and have 4 attack), so it becomes easy to destroy gifts in first turns of game, gaining cheap and powerful cards. Power Overwhelming, when used properly, may be used to kill both gifts for 1 mana (target your gift, order it to attack enemy gift) if your gift wasn't placed this turn, giving big advantage.
Trivia
[
]
This is the first ever festive Tavern Brawl, made to coincide with Hearthstone's first seasonal event - Winter Veil, in December 2015. Further seasonal events are speculated for the future, with some details already in place for a Lunar New Year celebration.
The reprise of this Brawl in February 2017 marks the first time in the history of the game that a limited-availability card back has been made available again.
References
[
]
External links
[
]
| | Tavern Brawls |
| --- | --- |
| Constructed | |
| Randomized | |
| Premade | |
| Brawliseum | |
| Cooperative | |
| Single-player | |
| Fireside Brawls | |