Giantstalker Rexxar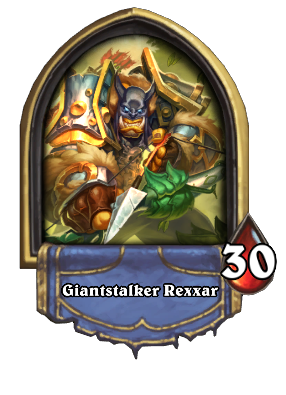 For other appearances of Rexxar, see Rexxar (disambiguation).
Giantstalker Rexxar is an alternate hero for the

Hunter class in Hearthstone.
This is Rexxar wearing the Giantstalker Armor set.
Giantstalker Rexxar is one of the options available for players that reach level 50 in the Rewards Track.
Once unlocked and selected for use, Giantstalker Rexxar is used as the hero whenever playing with a hunter deck. Giantstalker Rexxar comes with his own portrait and features a animated Hero Power.
For more information, see Alternate heroes.
When viewed in the collection, Giantstalker Rexxar has the following flavor text:
Rexxar's had a thing against oversized lifeforms ever since the gronn tormented his people. Obtained by completing the Reward Track.

Please add any available information to this section.
Each hero has their own selection of audio and written emotes that are produced in response to specific events. For more information, see Emote.
Giantstalker Rexxar uses some of the same emotes as Rexxar. Only different emotes are listed. For a full list, see Rexxar#Emotes.
| Type | Emote |
| --- | --- |
| Thanks | Thank you, friend. |
| Well played | You hunt well. |
| Greetings | Our paths converge. |
| Mirror Greetings | But where will they lead? |
| Wow | What a sight! |
| Oops | We all miss sometimes. |
| Threaten | Your scraps will feed the beasts... |
| Attack | My quarry nears. |
| Opening remark | I'm acting on instinct! |
| Mirror start | Naturally. |
| Selection in Arena | We will find our way forward. |