No Man's Sky Update - The Loop
Play Sound
General Husam
57394 • ULDA_BOSS_73h
Regular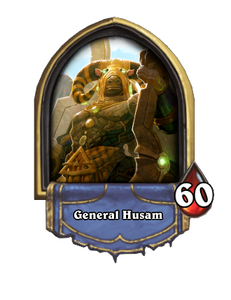 Dimensions:
Full
•
330 x 410px
Golden
Card image missing. Click here to upload.
Those who serve under General Husam are in a rush to leave.
Full tags
CLASS=10 CARDTYPE=3 HEALTH=10 COLLECTIBLE=0 HERO_POWER=57306 HERO_DECK_ID=2518 1279=2519 HIDE_WATERMARK=1 1202=10
Wiki tags
None
External links

It is a part of limited content and does not appear in any other
game modes
.
General Husam is a boss that can be encountered initially in Chapter 1 of Tombs of Terror. After completing Chapter 1, this boss encounter will be available in any completed chapter.
Hero Power
[
]
Decks
[
]
The below classes are listed purely for reference, and have no effect on the boss' use of the cards during the battle.
Strategy
[
]

Please add any available information to this section.
Dialogue
[
]
Introduction
General Husam

Invaders! You shall go no further!

vs. Sir Finley

General Husam

Are you a holy warrior such as I, murloc?
Emote Response
General Husam

Insolent rat!
Idle
General Husam

Beg forgiveness and the Dark Pharaoh may yet spare you.
Our power has grown. The plagues are but a prelude.
You should have turned back when you could.
Boss cards
Heroic Strike

I will smash you myself!

Explosive Runes

Tread lightly! (revealing)
You stepped in one of my traps! (activating)
Player's cards
Siamat

Return to your prison!

King Phaoris

You meet your demise today!

Unknown

VO_ULDA_BOSS_73h_Male_NefersetTolvir_PlayerTrigger_Cursed_Lieutenant_01 A lieutenant who defies a general?!
Death
General Husam

(yell)
Defeat
General Husam

A new era dawns under Dark Pharaoh Tekahn.
Lore
[
]
General Husam is a tol'vir boss in the Lost City of the Tol'vir.
From the World of Warcraft Adventure Guide

The titans themselves appointed General Husam as one of Uldum's foremost guardians. After

Siamat

, Lord of the South Wind, cured the Neferset tol'vir's curse of flesh, Husam helmed a rebellion that culminated in the air elemental's imprisonment.
Husam's initial vague reference to the "Dark Pharaoh" if player idles is revealed to be
Tekahn (a warlock hero in Dalaran Heist) in his defeat using the full title
Dark Pharaoh Tekahn (as he is known in the warlock minion card from Saviors of Uldum and who turns out to be
Tekahn, Plague Lord of Flame as the final boss of the final act.
Gallery
[
]
Patch changes
[
]
Tombs of Terror
Heroes
Chapter 1:
The Lost City

| | |
| --- | --- |
| Level 1 | |
| Level 2 | |
| Level 3 | |
| Level 4 | |
| Level 5 | |
| Level 6 | |
| Level 7 | |
| Level 8 | |

Chapter 2:
Scorching Dunes

| | |
| --- | --- |
| Level 1 | |
| Level 2 | |
| Level 3 | |
| Level 4 | |
| Level 5 | |
| Level 6 | |
| Level 7 | |
| Level 8 | |

Chapter 3:
Khartut's Tomb

| | |
| --- | --- |
| Level 1 | |
| Level 2 | |
| Level 3 | |
| Level 4 | |
| Level 5 | |
| Level 6 | |
| Level 7 | |
| Level 8 | |

Chapter 4:
Halls of Origination

| | |
| --- | --- |
| Level 1 | |
| Level 2 | |
| Level 3 | |
| Level 4 | |
| Level 5 | |
| Level 6 | |
| Level 7 | |
| Level 8 | |

Chapter 5:
The Inner Sanctum
Tavern