Garrote is an epic rogue spell card, from the United in Stormwind set.
How to get
[
]
Garrote can be obtained by:
Generated cards
[
]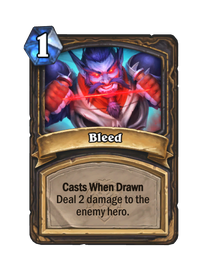 Notes
[
]
Bleed's damage can be increased by Spell Damage.
Strategy
[
]
Garrote provides initial burst of 2 damage to the enemy hero and additional 6 damage later on when Bleeds are drawn.
Garrote is extremely strong in decks that are able to draw out their entire deck quickly. Using Gadgetzan Auctioneer to quickly draw your deck followed by Spell Damage cards such as Ethereal Augmerchant on existing minions to initially draw the entire deck and then shuffle Bleed cards into your empty deck which eventually leading to potential huge burst of Bleed Damage especially when it can be increased by Spell Damage
Garrote is decent in aggressive decks although unreliable can close out games as 2 additional damage from drawing Bleeds can make the difference. It is much better to run Sinister Strike , Eviscerate, or Wicked Stab for bigger damage and cheaper costs.
Stowaway can guarantee to draw 2 of the 3 Bleed cards from the deck
Achievements
[
]
Lore
[
]
Gallery
[
]
Patch changes
[
]
References
[
]