Fire Emblem Warriors: Three Hopes - The Loop
Play Sound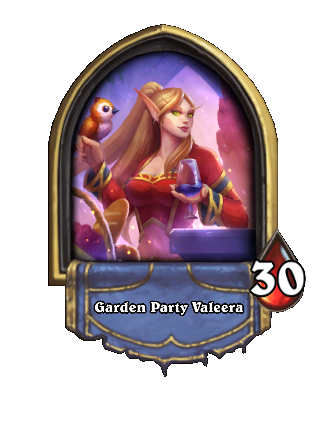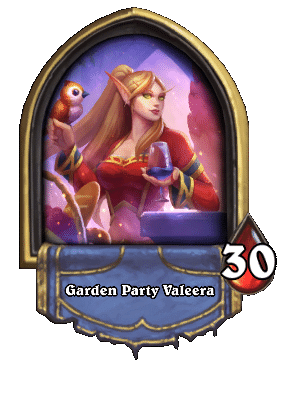 Garden Party Valeera is a hero skin for the rogue class.
How to get
Garden Party Valeera is currently unavailable for obtaining.
Flavor text
When viewed in the Collection, Garden Party Valeera has the following flavor text:
Through her esteemed connections, Valeera has become very popular with the party people... and their birds! Obtained by purchasing the Festive Mood bundle.
Sounds
| Type | Transcript |
| --- | --- |
| Attack [1] | Link▶️Shall we get rowdy? |
| Death [1] | Link▶️ |
| Selection in Choose Your Hero | Link▶️You're inviting me? I promise to be on my best behavior! |
Patch changes
Playable heroes
Alternate heroes

Expansion pre-order heroes

Elise

Hamuul

Kel'Thuzad

Katrana

Azshara

Lazul

Rastakhan

Vashj

Jaraxxus

Deathwing

Vanndar



Denathrius

Bundle purchasable heroes

Aranna

Hazelbark

Xuen

Alleria

Sylvanas

Medivh

Khadgar



Kael'thas


Annoy-O

Leeroy

Finley

Edwin

Garona

Thunder King

Ragnaros

Magni

Alternate portraits

Nightborne



Felfirework


Cherry Blossom

Sea Dryad

Murtotem



Fireflower


Naga



Flameshot


Navigator

Eternal

Admiral



Fire Glaive


Ice Lady

Handmaiden



Torchbearer


Mariner



Vendor


Deepsea

Kaldorei

Murragnaros



Juggler


Little Helper

Diver

Feast



Sparkspinner


Winter

Shipwrecked



Roaster