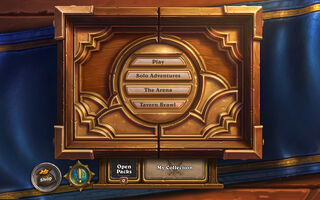 Game modes are different ways a player can interact with Hearthstone. Some game modes don't involve actually playing the game and some are only available in limited or special circumstances.
Basic game modes
Edit
Limited time modes
Edit
Non-play modes
Edit
Special condition modes
Edit
Tournament modes
Edit

This is a section stub. Please click edit to the right of the section title to add or expand it.
Competitive modes that are used in tournaments and not available in the normal game.