Fury (Rank 1)
Regular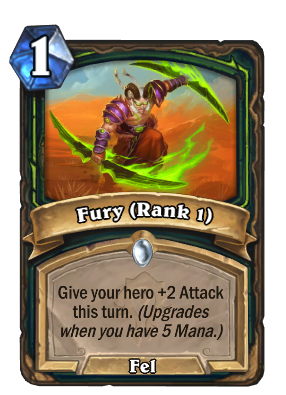 Gold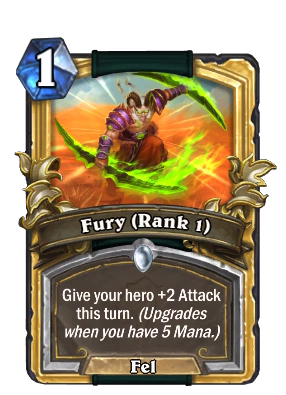 Give your hero +2 Attack this turn.
(Upgrades when you have 5 Mana.)
Flavor text
Rank 3 is when your mom uses your middle name.
External links
Fury (Rank 1) is a common demon hunter spell card, from the Forged in the Barrens set.
How to get
Fury (Rank 1) can be obtained through Forged in the Barrens card packs, through crafting, or as an Arena reward.
| Card | Crafting cost | Disenchanting |
| --- | --- | --- |
| Fury (Rank 1) | 40 | 5 |
| Golden Fury (Rank 1) | 400 | 50 |
Generated by
As well as being collected in decks, this card can also be generated by the following card.
Upgrades into
Strategy
Fury is a attack boosting card for your hero for 1 mana. At its base its as much as a Twin Slice but at rank 2 and 3 it becomes reasonably stronger for its cheap cost.
It is a great damage boost alongside your Hero Power followed by weapons you equip. Aldrachi Warblades will provide more lifesteal, Warglaives of Azzinoth can clear higher health minions, and so on.
Since it is a 1 mana, it can be used in Baku, the Mooneater decks to synergize with its empowered Hero Power.
Achievements
Trivia
Gallery
Patch changes