Raise a Floppa - The Loop
Play Sound
For other appearances of Thrall, see Thrall (disambiguation).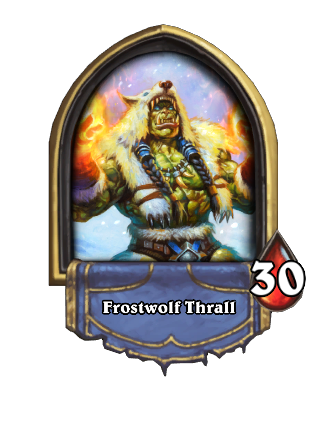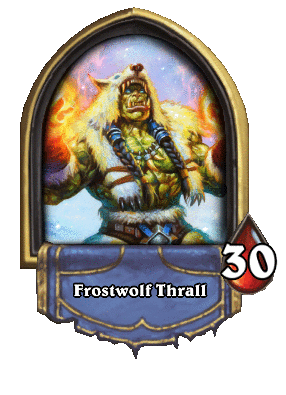 Frostwolf Thrall is a hero skin for the shaman class.
Lore
This is one of Thrall's appearances when he was part of the Frostwolf clan.
How to get
Frostwolf Thrall is currently unavailable for obtaining.
Previous availability
Frostwolf Thrall could be obtained for 1000 gold or 6.99$ from January 12 to January 25, 2022.

Gold
USD
EUR
GBP
AUD
RUB
1000
$6.99
€6.99

Frostwolf Thrall could be obtained through Frostwolf Thrall Bundle, which also contained 5 Shaman card packs and was available from 10AM PT, May 25 to 10AM PT, June 1, 2021.[1]

USD
EUR
GBP
AUD
RUB
$9.99
€9.99
£7.70
$13.66
Functionality
Main article: Alternate heroes
Once unlocked and selected for use, Frostwolf Thrall replaces Thrall whenever the player uses a Shaman deck, as well as:
Comes with own portrait
Has custom emotes
Flavor text
When viewed in the Collection, Frostwolf Thrall has the following flavor text:
When Thrall learned he was part of this legendary clan, he started to wish he'd been raised by wolves instead of humans. Obtained by purchasing the Frostwolf Thrall Bundle.
Sounds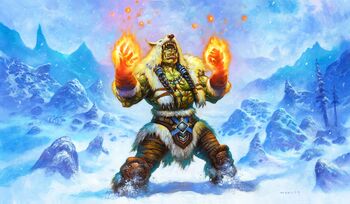 | Type | Transcript |
| --- | --- |
| Attack [1] | Link▶️Lok-Narash! |
| Death [1] | Link▶️ |
| Concede | Link▶️You win this one, friend. |
| Error: Too many minions | Link▶️I have too many minions. |
| Error: Generic | Link▶️I can't do that. |
| Error: Hand already full | Link▶️My hand is too full! |
| Error: Hero already attacked | Link▶️I already attacked. |
| Error: Minion not ready | Link▶️Give that minion a turn to get ready. |
| Error: Minion exhausted | Link▶️That minion already attacked. |
| Error: Not enough mana | Link▶️I don't have enough Mana. |
| Error: Need a weapon | Link▶️I need a weapon. |
| Error: Can't target Stealthed minion | Link▶️I can't play that. |
| Error: Can't play that card | Link▶️I can't target Stealthed minions. |
| | Link▶️That's not a valid target. |
| Error: Must attack Taunt minion | Link▶️A minion with Taunt is in the way. |
| Emote: Greetings [Fire Festival] | Link▶️A festival for the elements! |
| Emote: Greetings [Lunar New Year] | Link▶️Happy New Year, friend! |
| Emote: Greetings [Happy Halloween] | Link▶️Happy Hallow's End. |
| Almost out of cards | Link▶️I'm almost out of cards! |
| Unused: Greetings [Happy Noblegarden] | Link▶️Happy Noblegarden, friend. |
| Out of cards | Link▶️I'm out of cards! |
| Unused: Greetings [Pirate Day] | Link▶️Yar, matey. It be Pirate, uh, Day. |
| Unused: Sorry | Link▶️Sorry that happened. |
| | Link▶️Hmmm... |
| | Link▶️I wonder... |
| | Link▶️Hmm... What to do... |
| Running out of time | Link▶️There is little time! |
| Emote: Greetings [Holidays] | Link▶️Happy Feast of Winter Veil! |
| Emote: Greetings [Happy New Year] | Link▶️Happy New Year, friend! |
| Emote: Greetings | Link▶️Strength and honor. |
| Emote: Greetings [Mirror] | Link▶️They will always guide us. |
| Start [Mirror] | Link▶️A noble purpose. |
| Emote: Oops | Link▶️Hm… an error. |
| Selection in Choose Your Hero | Link▶️I have found my people. |
| Start | Link▶️I will bring freedom to the Horde! |
| Emote: Thanks | Link▶️I am grateful. |
| Emote: Threaten | Link▶️You deny the might of the Horde? |
| Emote: Well Played | Link▶️You are a worthy foe. |
| Emote: Wow | Link▶️By the Elements! |
Patch changes
References
[
]