Frostmourne
Deathrattle:
Summon every minion killed by this weapon.
External links
For other appearances of Frostmourne, see Frostmourne (disambiguation).
Frostmourne is an uncollectible weapon card, generated by The Lich King and Arfus.
For more information, see The Lich King and Arfus.
Generated by
[
]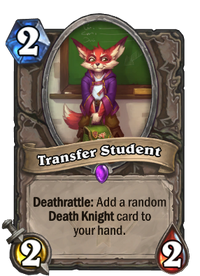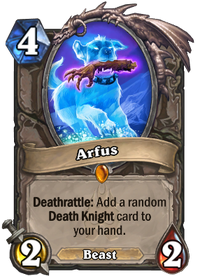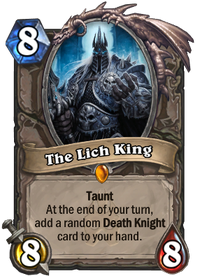 Lore
[
]

This section uses content from Wowpedia.
Frostmourne was the runeblade that Ner'zhul, the Lich King, thrust from the Frozen Throne, intending that Arthas Menethil would discover it on the continent of Northrend. It was wielded by Arthas until it was destroyed by Tirion Fordring. No one knew where the remnants of Frostmourne and its battered hilt were for some time.
In World of Warcraft: Legion, a frost death knight can gather the shards of Frostmourne and reforge them into two powerful new runeblades - Icebringer and Frostreaper, the Blades of the Fallen Prince.
Trivia
[
]
Gallery
[
]
Patch changes
[
]