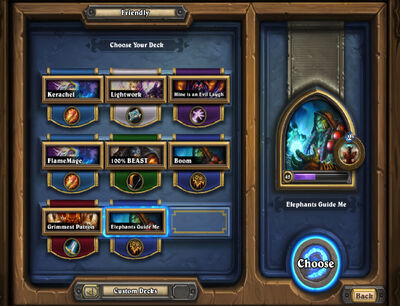 "Duel" redirects here. For the paladin card, see Duel!.
Friendly Challenge, also known as Friendly Play, is a game mode in which players can battle against other players on their friends list in private unranked matches, often referred to as duels. Offering fewer rewards than other modes of play, duels are designed to allow friends to challenge each other to casual matches.
Players can choose to issue three types of Friend Challenge: Standard format, Wild format, and Tavern Brawl. The first two are regular matches played in either Standard or Wild format, requiring each player to choose a constructed deck appropriate to the chosen format. The last type of duel queues both players into the current Tavern Brawl (assuming one is currently available), using either specially constructed Brawl decks or premade decks, depending on the Brawl.
Notes
Issuing a Friendly Challenge
Strategy
Gallery
Patch changes